Welcome to this week's Prose for Thought. Thank you so much to all of you who linked up last week. I am so sorry I have not gotten round to commenting on everyone's posts yet – but I am getting there!
This week's poetry and photography prompt is Time. Because of my lack of it, and the fact that I seem to have lost my mojo somewhere, I find it a very apt subject!
If you would like to join in, next week's prompt is 'Senses' – I hope I have come to mine by then!
So, if you have written a piece of original poetry, prose or fiction and would like to share it, then please link up below. I will try my utmost to read every single linker and share on Twitter, Google + or Facebook (please say in the comments if you have a preference). I would also love it if you share and use the #Prose4T hashtag. Please also use my badge below if you are linking up – it helps to publicise the linky to others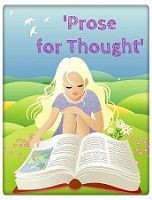 <div align="center"><a href="https://www.vevivos.com/prose-for-thought" title="Prose for Thought"><img src=" http://i1322.photobucket.com/albums/u568/ToriWel/Proseimagesmall_zps637beb08.jpg " alt="Prose for Thought" style="border:none;" /></a></div>
Copyright protected by Digiprove © 2015 Victoria Welton