Welcome everyone to this week's Prose for Thought. I must apologise to anyone who was having problems linking up last week – I think the inlinkz code was corrupted or something (I'm no good with technological stuff!). Anyway, hopefully it all works properly this week!
With Christmas drawing ever nearer, I tend to find everyone gets a little bit stressed and over-wrought about…well…everything really! I intend not to do that this year. I haven't started writing Christmas poetry yet – it's a bit like decorations really, I need to wait until a bit nearer the time. I believe that it takes the excitement away if you peak too soon!
Anyway, I wrote this last night.
Positive in Negativity
The negative vibes they got me and wormed their way inside
They slowly took me over, there was no where to hide
How could I find somewhere when it was there, right in my face
I hid my feelings and found myself in a cold and lonely place
Well now it's me, I'm coming back from the cave that I was in
Those feeling that took over me, I couldn't let them win
A positive affirmation, each day a happy thought
No more sad, no more anger, no more emotions fraught
I'm on the up, each day a new start, no more looking down
A smile will be on my face, replacing the woeful frown
The bad stuff, no it just won't do, it really isn't me
And if you look hard enough there's positive in negativity
Victoria Welton 26th November 2014
If you have written a piece of original poetry, prose or fiction and would like to share it, then please link up below. I will try my utmost to read every single linker and share on Twitter, Google + or Facebook (please say in the comments if you have a preference). I would also love it if you share and use the #Prose4T hashtag. Please also use my badge below if you are linking up – it helps to publicise the linky to others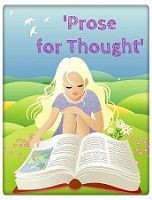 <div align="center"><a href="https://www.vevivos.com/prose-for-thought" title="Prose for Thought"><img src=" http://i1322.photobucket.com/albums/u568/ToriWel/Proseimagesmall_zps637beb08.jpg " alt="Prose for Thought" style="border:none;" /></a></div>
Copyright protected by Digiprove © 2014 Victoria Welton