Welcome to this week's Prose for Thought and thank you to those of you who linked up last week.
I have also completed this month's poetry and prose round-up over on BritMums so please take a look here for all the people who have been featured.
As this post publishes, I shall be on a train to the WTM exhibition being held at the Excel in London. I am really lucky to be part of the Blogger Speed Networking event and I know some of my fellow bloggers who will be there too. I nearly wrote a poem about travel today BUT there is something much more important coming up. Remembrance Sunday.
Grace was lucky enough to go and see the poppies at the Tower of London last weekend and I am planning to go after BlogFest on Saturday. There is also a superb post going up on kidGLloves tomorrow with Grace and Lucas's thoughts on wearing a poppy. I felt it was fitting to write a poem about that today.
Wear Your Poppy With Pride
I'll never forget what they did for us
Going off to their fate without any fuss
Their bravery, it knew no bounds
As they set foot on foreign grounds
Unbelievable horrors they saw
One of the many spoils of war
The bullets flying over their heads
The reason we sleep safely in our beds
Parted from loved ones, contact hard
Each letter poured through by a guard
Rations meant bartering had to be done
It's the price you pay for a loaded gun
The young today must never forget
All those soldiers lives that paid a debt
For us to live happy, for us to be free
The brave be remembered eternally
Flanders fields gave us the poppy in red
So lest we forget the brave and the dead
A sea of remembrance for those who died
Each year. At this time. Wear your poppy with pride
Victoria Welton 5th November 2014
If you have written a piece of original poetry, prose or fiction and would like to share it, then please link up below. I will try my utmost to read every single linker and share on Twitter, Google + or Facebook (please say in the comments if you have a preference). I would also love it if you share and use the #Prose4T hashtag. Please also use my badge below if you are linking up – it helps to publicise the linky to others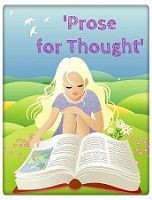 <div align="center"><a href="https://www.vevivos.com/prose-for-thought" title="Prose for Thought"><img src=" http://i1322.photobucket.com/albums/u568/ToriWel/Proseimagesmall_zps637beb08.jpg " alt="Prose for Thought" style="border:none;" /></a></div>
Copyright protected by Digiprove © 2014 Victoria Welton