Welcome everyone to this week's Prose for Thought. I was so pleased to get round to everyone's posts last week after making a much earlier start on them!!
I have to say that poetry is great for expressing your mood – whatever it might be. This mattered so much to me when, yesterday, something happened that incensed me.
I found out that my father had shared a personal email I had sent to him about Christmas. He didn't bother to reply to me, just broadcast it on Facebook in order to goad sympathy. I won't go into detail as this is not the post to do it on (I will write one at a later date) but I don't speak to my father and I haven't done for a while now. There are many, many reasons – not least because of how he treated my Mum.
Today's poem was written just after I found out what my father had done. As far as I am concerned parenthood is not a right, it is a privilege that should be earned and cherished. There are many, many people in the world who cannot have children. I often wonder what they think of the parents who mistreat their children or complain all the time about having them.
Some People
Some people have children
They grumble and they groan
They treat them with contempt
They continuously moan
Some people they have kids
They mistreat them in a beat
They never have the time for them
They don't care what they eat
Some people they have babies
They can't stand it when they cry
They shout and they scream at them
They never even try
Some people they are pregnant
They complain at every stage
They don't like all the changes
They vent with so much rage
Some people don't have children
They wish one day they may
They go through much to get there
They hope for that fateful day
Some people who have children
They need to think of those who don't
They need to take a look at what they have
They very likely won't
Victoria Welton 19th March 2014
If you have your own poem or piece of prose to share then grab my badge code and click the link below to enter your post. If you share a link back to my page in your post then you will be guaranteed some free publicity from me on Twitter! Don't forget to use #Prose4T when tweeting your post. Check out the Prose for Thought page for full details.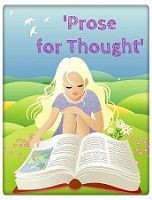 <div align="center"><a href="https://www.vevivos.com/prose-for-thought" title="Prose for Thought"><img src=" http://i1322.photobucket.com/albums/u568/ToriWel/Proseimagesmall_zps637beb08.jpg " alt="Prose for Thought" style="border:none;" /></a></div>
I would love some votes in the BiB Awards please. I made 3 shortlists last year and was a finalist in Video. This year I would love a chance to win!  Please consider me for any category but especially Innovate, Best Writer and Social Media. You can vote at http://www.britmums.com/nominate2014/
Copyright protected by Digiprove © 2014 Victoria Welton