Today is the first Monday of the Month. The beginning of the week. The start of a new me. A very good place to start my need to improve my health and fitness
Last Sunday I wrote here on this blog that I was looking to change my health and fitness. It's hard to believe that over a month ago I did seven days on the Exante Diet and, I am afraid to say that the weight I lost from there has pretty much all gone back on! I suppose that it is proof in the fact that if you don't keep going, then you won't achieve your goal.
Now, not only do I now have the amazing Fitbug Orb to use and monitor my exercise, but I have also been provided with a month's worth of Diet Chef products which, combined, should see my lose the weight I want as well as get fit and healthy again in a bid to work off this frozen shoulder of mine!
Last night, for the first time, I switched on and registered the Fitbug Orb (which I will be reviewing in a separate post). What I really love about this is, not only does it monitor your fitness levels and become your own virtual personal trainer, but there is the fact that it registers my sleep patterns – which I am renowned for not being very good at doing! Last night it said I got 96% (the aim is 85%!) but I was very knackered from the weekend.
I have started the diet chef program today too. I have entered my height and weight into my account on their website and it states that my BMI is 25.99 – 1 point over and into the realms of 'overweight'.  For breakfast I had a chocolate granola – which was gorgeous – and I am now having a ham and sweetcorn chowder for lunch – which is extremely tasty. I think I could get used to this diet! Again, I will be providing you with a separate review for Diet Chef.
My exercise so far today has consisted of me walking to school and back (which is up a very steep hill) via the shop for some butter for Ross' breakfast.
So, where do I stand right now and what is my goal for the month?
Weight on 29th January 2014:  175.3lbs
Weight on 3rd March 2014:       179.0lbs
Goal = A loss of 10lbs in 4 weeks
I shall be sharing my progress here every Monday, so please come back next week to see how I am getting on!
Linking up to Wobbles Wednesday with Autism Mumma.
Linking up to Get Fit Mummy at The Mad House of Cats and Babies.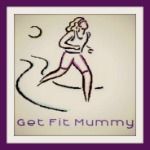 Copyright protected by Digiprove © 2014 Victoria Welton