Welcome dear readers and supporters, welcome to this week's Prose for Thought. Thank you to everyone who linked up and supported our corner of creativity last week.
This week sees the hardest poem I have ever had to write. It took me ages last night to find the right words. What do you say to someone who lost their baby to SIDS? What do you say to a Mother who has lost their child, knowing that they will never come back? Well, this weekend sees the anniversary of an event that rocked the blogging world that I had entered – the community which I knew nothing about the power of at the time, but I certainly do now.
The 2nd of February is the first anniversary of the death of Matilda Mae who tragically lost her life to SIDS at just 9 months old. Jennie Edspire, her mother, was a blogger prior to the loss of Matilda and, has been bravely and honestly telling her story and sharing her pain with us ever since. Many people are commemorating her loss this weekend with 'Letters to Matilda Mae' and linking up with Ghostwriter Mummy.
Being there to see Jennie receive her award for Outstanding Contribution at the MAD Blog Awards last year, and being able to congratulate her in person, was fabulous. It was her who helped me see the power of what the words on our blogs can do and how many people we have to turn to in this community in our hour of need.
Jennie, I feel that this poem doesn't do justice to your family's pain. I just wanted to give my contribution to you in some small way.
Remember You
Dear Angel girl from up on high
Your star shines brightly in the sky
You made so many people fly
And they will remember you
So many lives that you have changed
So many hearts you rearranged
So many wellies in the rain
And they will remember you
Set sail as they said goodbye
Your life is now a lullaby
We blow bubbles in the sky
And they will remember you
Pink and purple are my favourites too
They are colours that signify you
Shared in all your name is put to
And they will remember you
You've left behind a legacy
As if to say 'remember me'
A trail of you there will always be
And they will remember you
You left a sister and a brother
Feeling there should be another
Broken-hearted Father, Mother
And they will remember you
Your Mummy has cried so many tears
That day came, a mothers fears
You will watch over through years
And they will remember you.
© Victoria F J Welton 29th January 2014

If you have your own poem or piece of prose to share then grab my badge code and click the link below to enter your post. If you share a link back to my page in your post then you will be guaranteed some free publicity from me on Twitter! Don't forget to use #Prose4T when tweeting your post. Check out the Prose for Thought page for full details.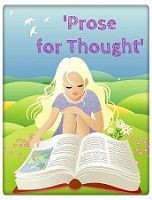 <div align="center"><a href="https://www.vevivos.com/prose-for-thought" title="Prose for Thought"><img src=" http://i1322.photobucket.com/albums/u568/ToriWel/Proseimagesmall_zps637beb08.jpg " alt="Prose for Thought" style="border:none;" /></a></div>
Copyright protected by Digiprove © 2014 Victoria Welton