Welcome to the first Prose for Thought for 2014. I hope you have had a wonderful Christmas and I would like to wish you all a very Happy New Year. This year I have some very exciting plans for poetry and I hope to be able to share at least one of those things in the next couple of weeks. It will also mean that others can get involved too 🙂 Today is a very special day. Grace's 7th birthday is here. She is mature beyond her years sometimes and I occasionally forget she is only 7. She has done more for me in her short life than she can ever imagine. She is spending the morning with her father and then coming back to me and Ross for some proper family time. Tomorrow she is having a party with 5 friends joining her at Build-A-Bear in Exeter. So…this week's poem is dedicated to my beautiful daughter. Happy 7th Birthday gorgeous girl.
My Amazing Saving Grace
Darling you are my saving Grace In ways you'll never understand From the moment that I saw your face The way you took my hand You broke me free from all those years Of power and control You took away all my fears Took me out of a deep dark hole For I did not see what I was going through Until I saw what was on repeat He did exactly the same to you So this demon I had to defeat You gave me the strength to walk away The courage to do what was right You gave me the hope of a brand new day You helped me see the light One day I hope that you will see I did it all for you My amazing Grace you'll always be My darling I love you
© Victoria F J Welton 25th December 2013
If you have your own poem or piece of prose to share then grab my badge code and click the link below to enter your post. If you share a link back to my page in your post then you will be guaranteed some free publicity from me on Twitter! Don't forget to use #Prose4T when tweeting your post. Check out the Prose for Thought page for full details.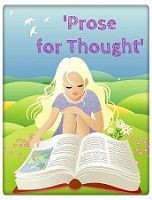 <div align="center"><a href="https://www.vevivos.com/prose-for-thought" title="Prose for Thought"><img src=" http://i1322.photobucket.com/albums/u568/ToriWel/Proseimagesmall_zps637beb08.jpg " alt="Prose for Thought" style="border:none;" /></a></div>