For those of you who aren't aware, Helen from All At Sea and I are co-editors for the Poetry and Prose round-up for BritMums. Helen's first round-up was published yesterday and can be enjoyed here. Thanks for featuring me Helen! 🙂
I think most of you who read my blog will know what I have had to deal with this week. Unfortunately the outcome wasn't favourable and at some point I will explain what has happened but, I believe it is safe to say that I was treated with complete disrespect and spoken to abominably.
With this in mind, my poem this week is about my efforts to protect my daughter no matter what. Since this all kicked off when she was 3 months old, everything I have ever done relating to her father has been with Grace's best interests at the forefront of absolutely everything.
Here I have tried to capture my feelings in a poem and I have also included a voice recording as I did last week to help show the emotion behind the words.
KEEP YOU SAFE
Keep you safe is what I'll do
Because I'd do anything for you
Stand up for you when times get rough
Though inside it hurts outside I'm tough
I'll set the right example to you
In all that I say and all that I do
Like a lioness when I think there's a threat
There is no challenge I haven't met
He'll hath no fury like a woman scorned
I become the devil – tailed and horned
I'll protect my baby whatever it takes
Keep you away from all those fakes
So one day when you become a Mum
You'll understand all the things I've done
© Victoria Welton 7th August 2013
I would really love and appreciate your comments below – and please, go and visit and comment on, the poems from the people who link up 
If you have your own poem or piece of prose to share then grab my badge code and click the link below to enter your post. If you share a link back to my page in your post then you will be guaranteed some free publicity from me on Twitter! Don't forget to use #Prose4T when tweeting your post.  Check out the Prose for Thought page for full details.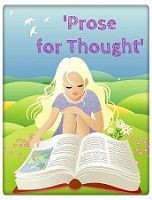 <div align="center"><a href="https://www.vevivos.com/prose-for-thought" title="Prose for Thought"><img src=" http://i1322.photobucket.com/albums/u568/ToriWel/Proseimagesmall_zps637beb08.jpg " alt="Prose for Thought" style="border:none;" /></a></div>