It's one of my favourite times of the week. Prose for Thought day. A little bit of culture and calm in a very busy world 🙂
Firstly thank you to everyone who supported my first Poetry and Prose Round-up over on BritMums. If you haven't seen it yet and read all the poetry from the people included then please pop across here.
This week I have written about my trials and tribulations of trying to deal with still having Grace's father in her life. She still sees him and talks about him often. There are times I want to scream and shout and tell her what he did to me and thus, in turn, her but I can't be the one to tell her this. It will just look like sour grapes from me so I just have to trust that she will see it for herself and try to piece it together with the help of other people. Then she can ask me the questions she needs the answers to. My poem kind of sums up my day to day struggle.
I Try
I try
I try not to take sides
I try to take the right side
I try to do the right thing
I try to do the right thing for you
I try all the time to make sure you are protected
I try every day in every single way not to bad mouth
I try to show you right from wrong and good from bad
I try to hide my true feelings despite wanting to tell you so much
I try to take the moral high ground every time and bring you up to understand
I try. I will try to set an example every day to help you try not to make the same mistakes I did
Copyright Victoria Welton 10th July 2013
I would really love and appreciate your comments below – and please, go and visit and comment on, the poems from the people who link up 
If you have your own poem or piece of prose to share then grab my badge code and click the link below to enter your post. If you share a link back to my page in your post then you will be guaranteed some free publicity from me on Twitter! Don't forget to use #Prose4T when tweeting your post.  Check out the Prose for Thought page for full details.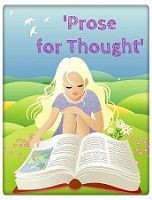 <div align="center"><a href="https://www.vevivos.com/prose-for-thought" title="Prose for Thought"><img src=" http://i1322.photobucket.com/albums/u568/ToriWel/Proseimagesmall_zps637beb08.jpg " alt="Prose for Thought" style="border:none;" /></a></div>