Thank you to those of you who linked to Prose for Thought last week. I apologise for being somewhat of an absent host this last week or so. I am afraid I am going to be even more absent next week but I shall be leaving you in the very capable hands of Helen from All At Sea who will be your lovely host for Prose for Thought.
This week I have decided to re-publish the first ever poem I put on my blog. It is fitting as 4 years ago this Saturday, I had to be brave and stand up at my Grandad's funeral in order to read a poem that I had written the day he died. I remember the Vicar coming over to my Mum's house to discuss the service and I read the poem to him to ensure it was appropriate. He did. I summoned my strength and stood reading to the congregation. It was hard with his coffin in the corner of my eye but I knew it was the least I could do after what he had done for me, my family and our Country. The Vicar then included the line 'The person we'd aspire to be' in his speech about Grandad, saying that they are not enough examples of this anymore. I agree.
Our Grandad
A man of grace and integrity
The meaning of things he'd help you see
The person we'd aspire to be
Our Grandad
For six years he was prisoner of war
Only he knows the horror he saw
A man who always laid down the law
Our Grandad
Myra is the lady to whom he stayed true
Born of them one girl, and boys, they had two
Worked hard and did what he had to do
Our Grandad
Always picked you up if you should fall
Throughout everything he stood tall
Lots of hard times, he got through them all
Our Grandad
You'd see him regularly wearing brown
But he hardly ever wore a frown
Stored his tins of food upside down
Our Grandad
A cup of tea was his favourite drink
He'd show you things and make you think
Made a boat of wood that didn't sink
Our Grandad
Imaginary play was one of his best
Greenhouse became shop at our bequest
He always seemed to outdo the rest
Our Grandad
A gentleman we will respect forever
A gentleman we won't forget, not ever
A gentleman whose memories we will treasure
Our Grandad
© Victoria Welton 10th June 2009
I would really love and appreciate your comments below – and please, go and visit and comment on, the poems from the people who link up 
If you have your own poem or piece of prose to share then grab my badge code and click the link below to enter your post. If you share a link back to my page in your post then you will be guaranteed some free publicity from me on Twitter! Don't forget to use #Prose4T when tweeting your post.  Check out the Prose for Thought page for full details.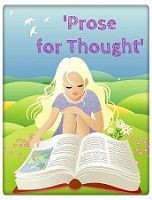 <div align="center"><a href="https://www.vevivos.com/prose-for-thought" title="Prose for Thought"><img src=" http://i1322.photobucket.com/albums/u568/ToriWel/Proseimagesmall_zps637beb08.jpg " alt="Prose for Thought" style="border:none;" /></a></div>