This week I have some really exciting news for you all. Starting in July, both me and Helen from All At Sea will be taking it in turns to do a poetry and prose round-up for BritMums on the first Wednesday of every month. So, we will be on the look out each month to find any original poems or prose that catches our eye and highlight them in our post.  There are already so many that link up to Prose for Thought but it will be so fantastic finding more, and we can't tell you how excited we are! I will be doing the first round-up on Wednesday 3rd July.
Now then, on to this week's poem. I don't know about you but there are times when my daughter, as much as I love her, drives me mad! She has done particularly well with this over the past week, since the end of half term. So, last Friday a poem suddenly came to me about how she drove me up the wall despite the fact that I do love her. I am certain that some of you can associate with this!
Drives Me Up the Wall
Daughter, I do love you so
So please don't get me wrong
I love the things you do each day
Dance, play and make up songs
But sometimes your relentless chatter
Drives me up the wall
How can so much come out of the mouth
Of one that is so small
I try hard to listen to the the things you say
That make very little sense
Do I let you carry on or quieten
I'm sitting on that fence
I suppose it all depends upon
Whatever mood I'm in
Sometimes I could listen for hours
Sometimes shut your annoying din!
© Victoria Welton 31st May 2013
I would really love and appreciate your comments below – and please, go and visit and comment on, the poems from the people who link up 
If you have your own poem or piece of prose to share then grab my badge code and click the link below to enter your post. If you share a link back to my page in your post then you will be guaranteed some free publicity from me on Twitter! Don't forget to use #Prose4T when tweeting your post.  Check out the Prose for Thought page for full details.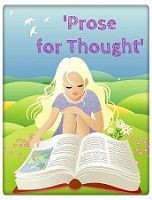 <div align="center"><a href="https://www.vevivos.com/prose-for-thought" title="Prose for Thought"><img src=" http://i1322.photobucket.com/albums/u568/ToriWel/Proseimagesmall_zps637beb08.jpg " alt="Prose for Thought" style="border:none;" /></a></div>