Last week I wrote my Magic Moment about my my court case and how I won..  As a result of the money I received I wanted to take Grace somewhere special, a holiday just for us. I felt we deserved it.  So I investigated the possibility of Disneyland Paris and found it was perfectly feasible. I set about booking us into the Dream Castle, a bus ride from the Park and also travel by Eurostar.
Grace was only 3 years old but I know that she would love it! Coincidentally, one of my sisters and her family booked for the same weekend so we were also able to meet up with them and had a wonderful time at Cafe Mickey where we met all the characters. I am going to let the photos do the talking – they say far more than I could in this post 🙂
This definitely was a holiday to remember 🙂
I'm linking up to Magic Moments over at The Olivers Madhouse.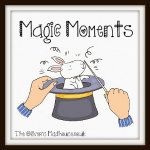 I am also linking up to Country Kids over at Coombemill.

Copyright protected by Digiprove © 2016 Victoria Welton