Way back when I left my ex in 2007, there followed a long, drawn-out court case regarding his contact with Grace. But I am not here to talk about the contact hearing.
In all that time I still had my name on a house over in Guildford. I co-owned a house with him. He refused to give me any money out of it despite the fact that half of the property was mine and half of what was put in (more if you count the fact that I paid for the survey and searches!) was also mine. He tried to say that he wanted me to pay half of the mortgage despite the fact that Grace and I were not living there, despite the fact that he had changed the locks and not let me get any of my things and despite the fact that he had accused me of stealing from my own property! My solicitor (in early 2008) then responded with the fact that rental value was higher than the mortgage so he should actually be paying me!! Funnily enough he stopped pursuing me for that. An agreement was made via our solicitors that he would pay me my share. It never came.
Three months later I was without a solicitor and any money (a story for another time) so I was acting for myself. I wrote to his solicitor and they were now saying that they wanted the property revalued. At that point I was pursuing him under the Trusts of Land Act. When I needed to concentrate on the case regarding Grace, the property matter took a back seat – it just wasn't as important in my opinion.
So, three years after the dust had settled, he hadn't banked on my strength and confidence returning. With some help from my sister-in-law who is an injury lawyer, and my McKenzie Friend who had been helping me along the way, I decided to act for myself in a breach of contract case. I wrote to him on three separate occasions, ensuring that the letters were sent recorded delivery, giving him every opportunity to pay me. He didn't…no surprise there really!
I filed the papers at Guildford County Court for a breach of contract case in October 2009. I bought the best – and easiest –  law book I could find regarding Breach of Contract Law and studied for the next six months. I had letters and paperwork coming out of my ears! The Court sent an order for a directions hearing that December. My ex made the mistake of thinking that it was to settle the case over 20 minutes! I think not!
The Judge asked my ex if there was an agreement. He stated that there wasn't. He turned to ask me and I just handed him the letter of agreement that had been written between our two solicitors. He turned and said 'Mr X, this looks like an agreement to me'. He moved to a case for breach of contract and for statements to be filed by the end of March, bundles to court and then a hearing for a date thereafter.
After the hearing, my ex followed me out of court (he was also without a solicitor at this point) and basically tried to bully me into taking less. The Court Usher almost threw us out. I think my ex now knew that I was basically recovered from his manipulating ways.  What followed was more months of paperwork. He prepared a statement full of lies. I prepared one responding. He made it about Grace. I kept it separate and made it about bricks and mortar and the money owed. Nothing more.
As I was the person filing, the complete onus was on me. I prepared a court bundle of over 300 pages. I had to do 3 in total. One for me, one for the court and one for the defendant, my ex. I had to get the case ready to bring to court. My ex brought nothing.
A week and a half before we went to court I had a text asking me to call when Grace had gone to bed. I rang him. He asked if I was still pursuing this. I stated that unless he was paying me my money then yes. Not only was I pursuing him for what he owed, but I was also asking for my costs and also interest on the money owed (the Court interest rate is higher than a banks!). He said 'Well, I hope you're satisfied. You wanted my money and the shirt off my back and now the house has burnt down so I am homeless'. I couldn't believe it!! How could he blame me for being homeless when that is exactly what he made me and Grace! I responded 'Well, now you know how it feels'. I found it hard to believe that it was an accident.
Without his knowledge, I obtained the fire report from the local fire brigade in readiness for any trickery. I knew it was coming. I took to the witness box on Thursday 6th May 2010 and took the Judge through all the evidence as succinctly as I could. Once I had finished, the Judge's main concern was how my ex was going to pay me. He was pleading poverty. I then played my hand. I explained to the Judge that the house had burnt down and the property would be insured so there would surely be at least some money to pay me out of this. My ex was shocked and tried to say that I was unreasonable and wouldn't talk to him. I calmly responded that this wasn't the case and would happily talk to him in one of the court offices.
The Judge needed time to look at the case and adjourned the hearing with a promise to call us back within the next week. He was true to his word and we returned the following Friday.
Prior to going in, me and my ex were both given the Judges findings and final decision in writing. As I was handed this piece of paper by the Usher, my hands were shaking. I scanned through and found it. He ordered in favour of the claimant! Me! And what lead him to this? The fact that my ex's top London Law Firm that cost him over £70,000 did not state to my new solicitor that there was no agreement!
All my hard work had paid off. I cried with relief and joy. It was ordered that I was not only paid the full amount but I was to receive interest and fees. It took him another year and a half to pay me but I did it…I acted for myself in court and won. A true Magic Moment for me after everything I had been through. No one will ever cross me again!
Linking this post up to The Olivers Madhouse Magic Moments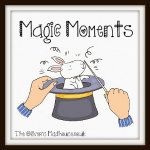 Like what you see? Then please consider a vote for this blog in the Brilliance in Blogging Awards (BiBs). I have been shortlisted for Innovate, Video and Social Media. The badges are on the top right in my sidebar – just click on them and they will take you to the voting form. Many thanks for your support!