Back when I first decided to write a blog (it was on holiday at Ross' parents in Portland last August) I had to decide not only on a name, but also on a URL which would be easy for people to type. I knew I wanted to personalise it by putting my name in the title as well as the fact that I talk…or talk/write…lots! So Victoria Vocalises was a good start. However, I wanted to let people know that I told it like it was and so Verily was put at the front.  Of course, that was too long-winded for a URL so I came up with a shortened version of my title and, thus, VeViVos was created.
I remember joking to myself that it sounded like the beginning of the rhyme which the Giant says in Jack and the Beanstalk, except mine was a bit different:
Little did I know that when little old me living in Berkshire created this little writing/viewing platform for myself, that I would ever be considered part of such a huge and friendly community in the form of Bloggers. Once I had started the blog, I then looked into where I should go to 'put myself out there' and discovered a whole new World connected to BritMums, Tots 100, Loved By Parents and Mumsnet to name but a few.
The place I started was BritMums and namely the Newbies Group which is amazingly supportive, and where I 'met' most of the blogging chums I've come to consider my friends. One of those people is Jaime from The Olivers Madhouse.  When my Broadband was down the other day – and I desperately wanted to ensure that my 'Prose for Thought' link went up – she came to my rescue. I entrusted her with one of my most personal things – my blog and its dashboard. I thank you from the bottom of my heart my dear friend.
Since then, I have gone from post to post (as opposed to pillar) and just written…sometimes ranted….sometimes probably bored people to tears….hopefully made you laugh….made you think….maybe made you reminisce…..made you cry (hopefully not with my poor writing)….and I am hoping you have enjoyed some of my creativity because by golly I have!
And now, still reeling from the shock, I am a finalist in the category of Most Innovative in the MAD Blogger Awards. ME? Really? REALLY?!! I am honoured to be in the company of such amazing bloggers in my category. Annie from Mammasaurus, Ruth from GeekMummy, Alex at Daddacool and Emma – and the beautiful spirit of Kerry – at Science Sparks.
in·no·va·tive
Adjective
(of a product, idea, etc.) Featuring new methods; advanced and original.
(of a person) Introducing new ideas; original and creative in thinking:  "an innovative thinker".
Synonyms
I heard I'd made it via Suzanne at 3 Children and It on Twitter last Thursday night. I was at home minding my own business. It has been a long and difficult week for lots of reasons – flu, broken down car and as a result a 3 day loss of earning AND a bill from the garage, broadband down so lack of blog i.e. right hand cut off(!), broken tooth, late for school at least twice and in amongst all that, all those niggly, stupid annoying things that happen BECAUSE you are having a bad week.  I felt justified in sitting down to stop. Ross got in late as he also had been out filming and he was cooking me dinner.
Whilst he was in the kitchen, I did my usual 'I'll check Twitter on my phone to see if anything interesting is happening' and my jaw dropped (I don't think it's back in place yet!) when I saw Suzannes tweet 'congratulations you!!! Brilliant news on your @MadBlogAwards finalist place :)' All I could reply back was 'what?!! OMG!!!!!' And, then of course, went off to make sure she wasn't having me on! 😉
Since then I have had so many congratulatory tweets and messages. I couldn't sleep then I woke up at 5.20am and was so excited. I was tweeting with Sonya at The Ramblings of a Formerly Rock 'n' Roll Mum and Sarah at MumofThree World (Sarah was up for the same reason as me – congratulations, poor Sonya was up with a poorly little 'un).
Anyway…I am rambling now…I don't think thank you is enough to all the people who nominated for me but, for now my dear readers, its all I've got so….
I am linking this post up with Magic Moments over at The Olivers Madhouse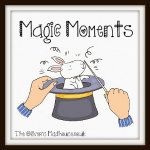 Copyright protected by Digiprove © 2016 Victoria Welton