One of the things that is inevitable when any child starts school is the fact that, at some point, they will have an altercation with another child and have to deal with playground politics. Grace has on a number of occasions and they still continue to this day. She has experienced the 'I'm not your friend', the taunting of 'I'm going to so-and-so's house but you're not' and the 'You're not coming to my party'. All kids do it and I know for a fact that Grace has done it back at some point.
Bad Parenting?
I really don't think that it is bad parenting that causes the children to act like this. To me, it is just children testing boundaries and seeing how far they can assert their authority. I know that if Grace was acting up then I would want someone to have a quiet word with me – not to blame me, but to inform me. Most parents don't know what their children are up to at school and, once they are equipped with this knowledge, it is up to them how they handle it.
I have experienced a number of parents who 'blame' the parents of the other child. To me, this isn't constructive in the slightest. Going in, all guns blazing is immediately going to put their heckles up and the other parent is either going to defend their child or argue back. To me, the best thing to do is inform and discuss. There are always two sides to every story in my opinion. Plus, we all know that children can be very mean to each other!
Dealing with the child causing the issue
I have always tried to fact-find with Grace. I would want to know why she was doing something. Then, I would explain why it might be wrong and how she might be making the other person feel.
I can recall a couple of examples of this.
The first was when she was in nursery and it didn't involved her being mean to another child – but she was misbehaving. She and another child went into the bathroom and removed all the pictures off the wall to collect the blu-tac (to this day, she still has an obsession with the stuff and it has become a joke Christmas present!). She got reprimanded for this by the nursery staff.
When I went to pick her up, the staff informed both me and the mother of the other child of what had happened. The other mother gave the nursery staff a piece of her mind – something I didn't agree with in the slightest. To me, if a child is doing wrong at school or nursery, then it is up to the staff to deal with it. My job, after this was not to tell Grace off again – this had already been done – but to explain to her why it might be wrong and help her see how her actions might affect things.
The second example was in her first year at school. One morning, as we were going into the school playground, she told me that she had been put in the naughty corner the previous day. I asked her why but she didn't want to tell me. When I went to take her into class, I discovered from the teacher that Grace had bit a boy in her class. I was really shocked as this was totally out of character.
That evening, when she got home, Ross disappeared off to the kitchen and I sat her down. We calmly had a discussion about the incident. This is how I handled it:
fact-finding – I asked her why she had bitten him. She explained that he was really, really annoying her
explaining why it was wrong – I told that just because he had annoyed her, it doesn't mean that she had the right to do anything back to him. The best way is to walk away or, if he was continuing to annoy her, to inform a teacher.
explaining how the other child might have felt – it was important for her to understand the other child's feelings in all of this. I told her that even though he was doing something wrong, she shouldn't do it back and I asked her how she might have felt if she had been bitten.
Dealing with the consequences – at that point we had a star chart for Grace. Up until then, I had only ever removed 1 star at a time for misbehaviour. Because of this, I took away 7. She was so upset, she put her hands over her eyes as she couldn't watch me take them!
Act like the adult
On one particular occasion in her first school, Grace kept coming home to tell me that her best friend was going off with another child and, together they were 'bullying' her (I do think that this word can be bandied around a bit too much these days!). I approached the mother of the child who was Grace's best friend as I knew her pretty well and, together, we went to see their teacher to discuss this.
It actually turned out that Grace was inflating the issue by adding bits onto the story. She had even accused the other child of hurting her when she hadn't. We realised that Grace was doing this because she was jealous of the other two playing together without her. Thankfully, she came clean to us about this – mainly because I have made sure that she can approach me with anything – and I made her ring both the mother and her daughter to apologise. I also explained to her that she couldn't make others do what she wanted and that she should find other friends to play with.
How to handle a child on the receiving end
Even now, Grace regularly comes home from school with stories of her friends not talking to her or being mean to her.
A couple of weeks ago, one of her friends made her cry in class – something which is totally out of character for her. She had repeatedly had issues with this friend so, at the end of the school day (it was a Friday) her form teacher told her that she would deal with it on Monday. Come Monday, the teacher forgot, so Grace dealt with the situation herself. She told the friend that, whilst she wanted to remain friends with her, they couldn't be best friends anymore because they just didn't get on. Ross and I felt that this was a really mature and sensible way to handle it.
These are just some examples in a series of many more which Grace has experienced. As time has passed, she has repeatedly managed to handle situations without our intervention and I firmly believe that the reason she has managed to deal with them in this manner is because, along the way, both Ross and I have given her the tools to handle circumstances which are either making her unhappy or uncomfortable.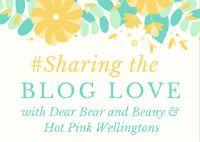 Copyright protected by Digiprove © 2017 Victoria Welton