Following my series on YouTube, The Conception Diaries and our attempts to get pregnant, our IVF baby is due in July 2017. My last update was at 26 weeks pregnant when I wrote about a raw egg incident, our latest scan and our first piece of nursery furniture.
I am now 27 weeks pregnant. As I type this, I have just 85 days to go. Our boy weighs around 2lbs and is about the size of a head of cauliflower.
All the emotions
I don't know what it is but this last week has been full of all the emotions for me.
Anger. Amongst a few reasons, this was mainly due to an ex-employer of a client which I have just taken on giving me a complete and utter hard time – when he doesn't even know me! He decided to call himself the social media manager but my client hadn't agreed to this and I couldn't actually seen what he had done for them.
Worry. This was down to the impending blood test and anti-d injection. You would have thought that I had gotten over that with all the clexane injections I had at the beginning of this pregnancy but, it seems not!
Sadness. This was due to the death of Grace's former headteacher.
Happiness. I am pleased to say that this weekend has been full of fun and laughter as we had our friends, John and Luci, staying with us, playing lots of board games. going out for a meal and watching funny YouTube videos amongst other things.
Seeing the midwife – again
Wednesday afternoon was another trip to see the midwife. I had assumed that they were going to do an anti-d injection there but, because the solution has to be administered as soon as it is out of the lab, I have to be at the hospital for that one. The midwife made me an appointment for Saturday – more of that later in my post – but my bloods were taken and I was tested for anaemia. The count needed to be 120 or over and my was recorded at 124 so all fine there. She also took my blood pressure and listened to the baby.
It was confirmed that I would need a glucose intolerance test due to my family history in case of gestational diabetes – which I made an appointment for next Wednesday. I was also advised to have a whooping cough injection. This is because less people get their children vaccinated so the risk is higher for the baby in the first 6 weeks. I will be booking this once the glucose test is out of the way.
Seeing D-State at the Yeovil Beer Festival
On Friday night I had the perfect excuse to dress up and go out. D-State, the band which Ross is lead singer for, headlined the Yeovil Beer Festival. I was able to not only go out for a bit of a dance but I also enjoyed putting my photography to the test in rather tricky lighting conditions.
Our friends, John and Luci, came up for the festival and to stay for the weekend and met us there. Afterwards we were all hungry so we picked up a MacDonalds from their drive-thru – although they forgot one of our burgers much to my disgust! You don't deny a pregnant woman her craving for a Big Tasty! The other 3 were kind enough to share and gave me a burger to myself.
An Anti-D injection
Yesterday I went to the hospital for my anti-d injection. It was up near the maternity wards and, because we weren't sure where to go, I buzzed through to the ward. The midwife I saw told me that she would be administering it but she was having a rather hectic day. She told us that if someone had told her that it was 1st April then she would have believed them!
Ross and I and another couple sat in the waiting area and, after about 20 minutes, the midwife came and took Ross and I through and explained the reasons behind anti-d. Basically, our baby has positive blood and I have negative. If our blood crosses over then my body will build up anti-bodies. This is not dangerous to me or our baby but it could be to any other babies in the future. Unlikely to happen I guess, but you never know! I had this injection with Grace but never realised that it was a human blood product. The midwife explained that this was thoroughly screened and posed less risk to me than not having it would pose to a future baby.
I opted for the injection in my bum – as she told me that this is where it stung less. It still ruddy hurt though! I also had to wriggle my toes to get the medication around my system.
27 weeks + 5 days bump
This week's bump photo is a little bit different. I decided to include a cuddly lamb which was christened Barley. This was before I knew that this was what he was called on his label! Barley was also the name I gave to sheep when I was very small. This lamb came in a gift basket following a blog post I wrote over 3 years ago along with a number of other baby products. This basket has sat on the shelf in the lounge for the majority of the time we have being trying for a baby, acting as a reminder to make sure we kept on going.
When we were in the two week wait this last time around, Barley came off the shelf and I used to take him to bed and cuddle him every night. Basically, it was my way of 'virtually' cuddling the baby. Since we found out we were pregnant, Barley has stayed and still acts as my baby replacement, however, he will pass on to our son once he arrives.
It may all sound a bit silly but it really has given me a lot of comfort.
A Giveaway
Just a reminder that I have still have a giveaway running for anyone who is pregnant or would like to treat someone who is. You could win a £100 voucher to spend with Elizabeth Brown Maternity – ends on 28th April.
What's Next?
This week, I am off to Grace's parents evening, I have a glucose intolerance test on Wednesday and I shall be starting to use my new pregnancy yoga DVD.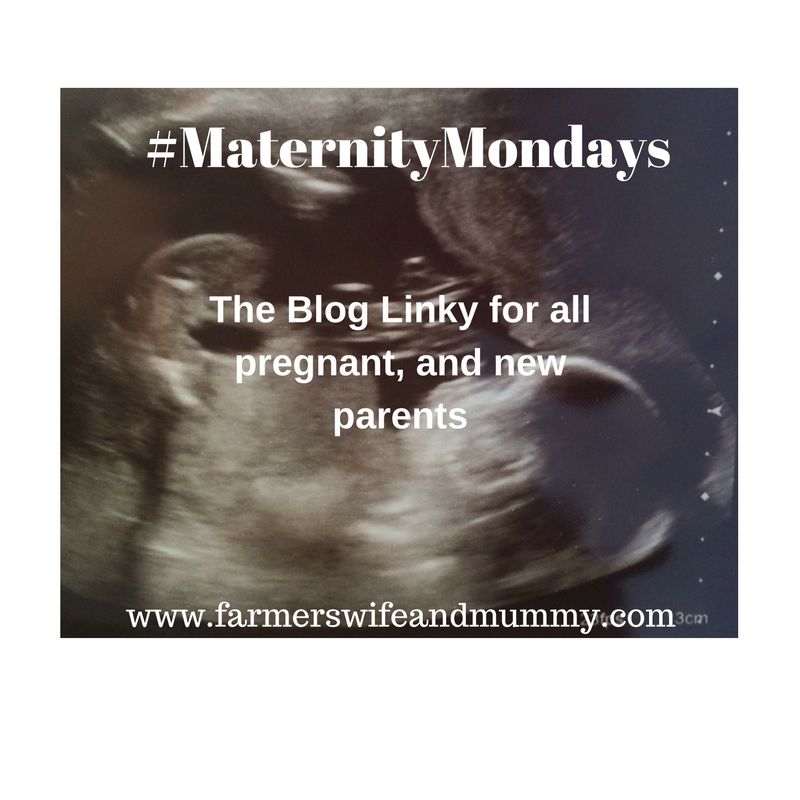 Copyright protected by Digiprove © 2017 Victoria Welton