Welcome back to Prose for Thought. Just in case you were wondering, your eyes weren't deceiving you and there was no P4T last week. The reason for this is very clear. I floated the idea of putting this linky as a fortnightly affair in our Writers Facebook group and, as a result, the talented Sara who runs The Prompt over at Mum Turned Mom agreed with me.
I, for one, was finding it tricky to come up with creativity every single week. I felt like I was starting to force my poetry and that meant that I wasn't really enjoying it any more – which obviously wasn't a feeling I wanted! The plan to go fortnightly – alternating with Sara and The Prompt – will give us both a bit little more time in our weeks, to come up with creativity without being forced and to give all the lovely people who link up a bit more time – and a bit more variety – too. We will now run our writing linkys (The Prompt and Prose for Thought ) fortnightly on alternate weeks. So, please head on over to Sara to see what The Prompt is so that you can be ready to share on her linky next Friday 31st March (GMT). In the meantime, I have linked my latest poem below and Prose for Thought will be back on Thursday 6th April.
Dawn from Rhyming with Wine has shared her very first BritMums poetry and prose round-up which was published over on their site at the beginning of March. Please go and show her some support. If you would like to be included in the next BritMums Poetry and Prose round-up, I will be compiling it and it will be published on, or around, the 5th April. If you would like to be included, please tweet either me (@vicwelton) or Dawn (@rhymingwithwine) using the hashtag #BritMumsPoetry or comment below!
If you have written a piece of original poetry, prose or fiction and would like to share it, then please link up below. The link is open until 9.30pm the following Monday. I will try my utmost to read every single linkers post. I would also love it if you share your poem and use the #Prose4T hashtag. If you include me in your tweet – @vicwelton – I will ensure that I retweet you. Please also use my badge below if you are linking up – it helps to publicise the linky to others.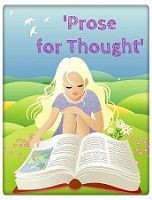 <div align="center"><a href="https://www.vevivos.com/prose-for-thought" title="Prose for Thought"><img src=" http://i1322.photobucket.com/albums/u568/ToriWel/Proseimagesmall_zps637beb08.jpg " alt="Prose for Thought" style="border:none;" /></a></div>
Copyright protected by Digiprove © 2017 Victoria Welton