If you are no stranger to this blog, then you will know that I regularly share my poems here – it was one of the reasons I started it in the first place. So, when Viking offered me a pack of creative materials to help celebrate World Poetry Day on 21st March 2017, there was no way I could refuse.
The pack included a beautiful custom gold goose feathered calligraphy pens, hand made in Italy, some parchment paper, some coloured paper, various different pens and a mini canvas with easel.
With this in mind, this week's poem just had to do justice to poetry itself. It wasn't easy but I wanted to express how much creative writing meant to me.
Your Creation
Poetry is a legacy,
Of writing feelings down
The words may make you laugh or cry
Or cause an unexpected frown
The words you put on paper
Can hold feelings very deep
It is a way of expressing yourself
With a giggle or a weep
Writing is cathartic
It can get things off your chest
The words you use can be meaningful
Or they can be used in jest
I have used poetry
In oh so many ways
It has helped me to get through
Some of my darkest days
Each and every poem
Is open to interpretation
They can read their own meaning
But it still remains your creation
Victoria Welton, 21st March 2017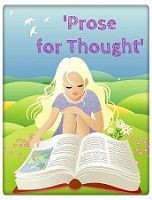 Copyright protected by Digiprove © 2017 Victoria Welton