Welcome to this week's Prose for Thought. Thank you to everyone who linked up last week. I managed to get round every one yesterday and all your posts will be appearing on my Facebook page over the next few days.
Grace is currently on half term but, the other day, she told me that she needed to go back to school. She explained that she was feeling very clingy that may be she needed a bit of time away just to make sure that she wasn't feeling like she was being too babyish…and… I got it. I knew exactly what she meant. I have written a poem based on these feelings this week.
The latest BritMums poetry and prose round-up has been compiled by me and can be found over on their site and includes details of my new co-editor. If you would like to be included in the next BritMums Poetry and Prose round-up, it will be published on, or around, the 1st March and Dawn from Rhyming With Wine will be your editor. If you would like to be included, please tweet either me (@vicwelton) or Dawn (@rhymingwithwine) using the hashtag #BritMumsPoetry or comment below!
If you have written a piece of original poetry, prose or fiction and would like to share it, then please link up below. The link is open until 9.30pm the following Monday. I will try my utmost to read every single linkers post. I would also love it if you share your poem and use the #Prose4T hashtag. If you include me in your tweet – @vicwelton – I will ensure that I retweet you. Please also use my badge below if you are linking up – it helps to publicise the linky to others.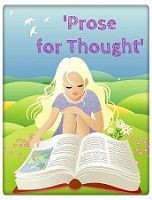 <div align="center"><a href="https://www.vevivos.com/prose-for-thought" title="Prose for Thought"><img src=" http://i1322.photobucket.com/albums/u568/ToriWel/Proseimagesmall_zps637beb08.jpg " alt="Prose for Thought" style="border:none;" /></a></div>
Copyright protected by Digiprove © 2017 Victoria Welton