Welcome to this week's Prose for Thought. Thank you to everyone who linked up last week. I am pleased to say that I made good time on commenting and sharing all your posts on Twitter.
Firstly I have some news for you. Regular readers of Prose for Thought will know that I am co-editor of the BritMums Poetry and Prose round-up. For some time now, my co-editor has been Maddy from Writing Bubble. I am sad to say that she has decided to step down from this position as she would like to concentrate more on her own projects. I want to take this opportunity to wish her all the very best for the future and will certainly be looking out for her fabulous writing and beautiful illustrations.
The new co-editor will be announced very soon. In the meantime, the next BritMums poetry and prose round-up is in the process of being compiled and should be up next week. I am pleased to say that there is still time to be included so please tweet me (@vicwelton) using the hashtag #BritMumsPoetry or comment below!
This week, I have shared a poem which I wrote way back in July 1995. It is a bit rough round the edges but hopefully you will be kind!
If you have written a piece of original poetry, prose or fiction and would like to share it, then please link up below. The link is open until 9.30pm the following Monday. I will try my utmost to read every single linkers post. I would also love it if you share your poem and use the #Prose4T hashtag. If you include me in your tweet – @vicwelton – I will ensure that I retweet you. Please also use my badge below if you are linking up – it helps to publicise the linky to others.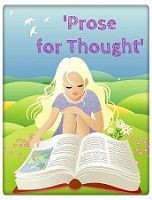 <div align="center"><a href="https://www.vevivos.com/prose-for-thought" title="Prose for Thought"><img src=" http://i1322.photobucket.com/albums/u568/ToriWel/Proseimagesmall_zps637beb08.jpg " alt="Prose for Thought" style="border:none;" /></a></div>
Copyright protected by Digiprove © 2017 Victoria Welton