Welcome to this week's Prose for Thought. Thank you to everyone who linked up last week. I am pleased to say that I made good time on commenting and sharing all your posts on both Twitter and Facebook.
This week the prompt over with Sara at Mum Turned Mom is the word 'start. So, when I saw this week that a new law had been passed that will target bullies who control partners with emotional abuse which means that they could receive up to five years in jail, I wanted to write something that reflected this and used the prompt word. This law came ten years too late for me but I so glad for the people it will help now.
The last BritMums Poetry and Prose round-up can be found over on their site. I have to admit that I am a bit behind this month and will be compiling the round up at the end of this week. There is still time to be included so please tweet me (@vicwelton) using the hashtag #BritMumsPoetry.
If you have written a piece of original poetry, prose or fiction and would like to share it, then please link up below. The link is open until 9.30pm the following Monday. I will try my utmost to read every single linkers post. I would also love it if you share your poem and use the #Prose4T hashtag. If you include me in your tweet – @vicwelton – I will ensure that I retweet you. Please also use my badge below if you are linking up – it helps to publicise the linky to others.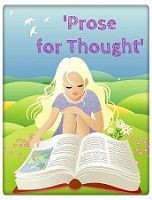 <div align="center"><a href="https://www.vevivos.com/prose-for-thought" title="Prose for Thought"><img src=" http://i1322.photobucket.com/albums/u568/ToriWel/Proseimagesmall_zps637beb08.jpg " alt="Prose for Thought" style="border:none;" /></a></div>
Copyright protected by Digiprove © 2017 Victoria Welton