Welcome back to this week's Prose for Thought. I am sorry, I am a bit late today! Plus, I haven't finished reading last week's linkers yet so will get onto that today.
This week, I have been so busy that I have not had time to feel inspired enough to write a poem. So, instead I am sharing one that I wrote a few years ago for this time of year.
This will be the last Prose for Thought before Christmas so I will be extending the link up time to next Thursday. After that, Prose for Thought will return on Thursday 5th January 2017.
The next BritMums poetry and prose will be compiled by Maddy from Writing Bubble and should be up shortly. If you would like to be included in the next BritMums Poetry and Prose round-up, it will be published on, or around, Wednesday 4th January. If you would like to be included then please tweet me (@vicwelton) or Maddyfollow (@writingbubble) using the hashtag #BritMumsPoetry.
If you have written a piece of original poetry, prose or fiction and would like to share it, then please link up below. The link is open until 9.30pm the following Monday. I will try my utmost to read every single linkers post. I would also love it if you share your poem and use the #Prose4T hashtag. If you include me in your tweet – @vicwelton – I will ensure that I retweet you. Please also use my badge below if you are linking up – it helps to publicise the linky to others.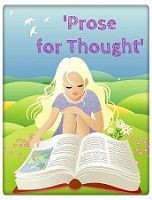 <div align="center"><a href="https://www.vevivos.com/prose-for-thought" title="Prose for Thought"><img src=" http://i1322.photobucket.com/albums/u568/ToriWel/Proseimagesmall_zps637beb08.jpg " alt="Prose for Thought" style="border:none;" /></a></div>