Welcome back to this week's Prose for Thought. I have to apologise as I am still playing catch-up from our trip to Spain so I will round to everyone's posts as soon as I can. I have a quiet weekend coming up so a spot of blog post reading will most definitely be on my to do list.
This week, I am afraid that inspiration hasn't struck! So, I am sharing one of the poems that I wrote back in NaPoWriMo. The one I have linked below was for Earth Day. It didn't reach that many people last time round so I hope you enjoy it.
The latest BritMums poetry and prose is brought to you by Maddy from Writing Bubble and can be found over on their site. Massive thanks to her for taking over my turn. If you would like to be included in the next BritMums Poetry and Prose round-up, it will be published on, or around, Wednesday 7th December. If you would like to be included then please tweet me (@vicwelton) or Maddyfollow (@writingbubble) using the hashtag #BritMumsPoetry.
If you have written a piece of original poetry, prose or fiction and would like to share it, then please link up below. The link is open until 9.30pm the following Monday. I will try my utmost to read every single linkers post. I would also love it if you share your poem and use the #Prose4T hashtag. If you include me in your tweet – @vicwelton – I will ensure that I retweet you. Please also use my badge below if you are linking up – it helps to publicise the linky to others.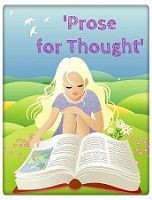 <div align="center"><a href="https://www.vevivos.com/prose-for-thought" title="Prose for Thought"><img src=" http://i1322.photobucket.com/albums/u568/ToriWel/Proseimagesmall_zps637beb08.jpg " alt="Prose for Thought" style="border:none;" /></a></div>
Copyright protected by Digiprove © 2016 Victoria Welton