More than once this week I have heard myself using the phrase 'Don't judge someone until you have walked a mile in their shoes'. Never has it been more true. With bloggers being called 'slummy mummies' in the press this week, and my own recent appearance in the Daily Mail, I am pretty much fed up with people from all walks of life being judged. You really don't know what someone else has been through or has happened in their life until you have either a) lived with them or b) actually been them! This is the inspiration behind my poem this week.
Criticise
Why are you judging?
You don't know me
Haven't walked in my shoes
Don't see what I see
Why are you critiquing?
Your life isn't perfect
But, then, whose is?
Is this really worth it?
Who is to say
Just how I should feel?
And what is so wrong
With keeping it real?
You are no more of a person
Than anyone else
Grab hold of a mirror
Take a look at yourself
Though I am a different shape,
Colour or size
Tell me, just who are you
To criticise?
Victoria Welton 28th September 2016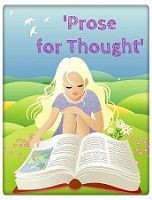 Copyright protected by Digiprove © 2016 Victoria Welton