Welcome to this week's Prose for Thought and thank you so much to those of you who linked up last week.
This week's offering from me comes at the start of my Summer of Love series. I have asked if anyone is interested in writing a guest post for my blog incorporating the theme of love in all it's many forms. If you read my post, which you will find in the link up below, then you can find out a bit more about it. I would love to have you on board if you are interested.
I am pleased to say that my BritMums Poetry and Prose round-up went live last week, so grab a cuppa, put your feet up and nip over for a read…after you have read the poems below of course! 😉 If you would like to be included in the next BritMums Poetry and Prose round-up, it goes live on Wednesday 3rd August and if you would like to be included then please tweet me (@vicwelton) or Maddy (@writingbubble) using the hashtag #BritMumsPoetry.
Just to let you know that Prose for Thought will be continuing for most of the summer. It will be taking a break next week as Ross and I are away for a couple of days but then it will be back on Thursday 5th August.
If you have written a piece of original poetry, prose or fiction and would like to share it, then please link up below. The link is open until 9.30pm the following Monday. I will try my utmost to read every single linkers post. I would also love it if you share your poem and use the #Prose4T hashtag. If you include me in your tweet – @vicwelton – I will ensure that I retweet you. Please also use my badge below if you are linking up – it helps to publicise the linky to others.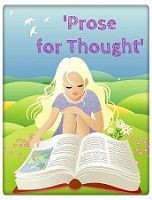 <div align="center"><a href="https://www.vevivos.com/prose-for-thought" title="Prose for Thought"><img src=" http://i1322.photobucket.com/albums/u568/ToriWel/Proseimagesmall_zps637beb08.jpg " alt="Prose for Thought" style="border:none;" /></a></div>
Copyright protected by Digiprove © 2016 Victoria Welton