I have already written a post about my thoughts on the result of the EU referendum but I just had to dedicate my poem for this week's Prose for Thought to it as well.
Questions
Fighting, slighting, back biting
Blaming, shaming, proclaiming
Mocking, shocking, people blocking
Why can't we all calm down?
Demonising, patronising, chastising
Slagging, bragging, some need gagging
A sideways glance then racist chants
What has been unleashed?
No plan, what a sham, don't blame gran
No clear view, what a to-do, no way through
Stop the attack, find a way back
Who was it who did this?
Dropping, stopping, stomach knotting
Say farewell, I want to yell, not this dispel
I want to stay, not go this way,
How did this come about?
Stiff upper lip, cause I'm a Brit
See this through is what we must do
Stop the fight, try with all our might
One big heartache, dreadful mistake
Can we face fact and change our tact?
When will this all end?
Victoria Welton 29th June 2016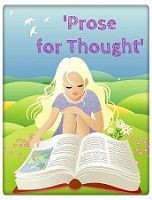 Copyright protected by Digiprove © 2016 Victoria Welton