I thought I would try something a little different for my poetry this week and go with some limericks. I don't believe that I have ever written any for Prose for Thought before and the last time I wrote one was probably when I was a kid. I decided to choose the 3 most obvious subjects – me, Ross and Grace.
Grace
There was a young lady named Grace,
She had make-up all over her face
She tried hard to wash it
But just couldn't stop it
From getting all over the place!
Vicky
There once was a woman named Vicky
Fed up with people taking the mickey
She tried hard to ignore
But it became such a bore
So she decided she was being too pickey!
Ross
There once was a man named Ross
He took pleasure in being the boss
But one day he changed
And became so deranged
So no longer did he give a toss!
Victoria Welton 25th May 2016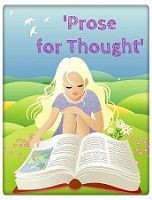 Copyright protected by Digiprove © 2016 Victoria Welton