This week, rather than share some of my own poetry, I am sharing three of Grace's. She was recently given a piece of homework where she was able to choose from a list of words and write an acrostic poem. She chose the words League, Tongue and Plague. This is what she wrote:
League
Lovely grass, every where
Each piece bright green
A bird watching in a tree
Grasshoppers in a field
Unimaginable beauty
Eating all day long
Tongue
The thick snow
On roof tops
Nothing in sight
Gorging on marshmallows
Unbelievable sweetness
Every winter I love
Plague
Plague is a horrible thing
Lots of work for doctors
Another person dead
Great sadness
Under the weather
Every body, very ill
Grace, aged 9. May 2016.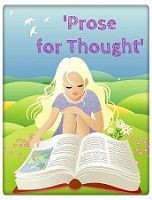 Copyright protected by Digiprove © 2016 Victoria Welton