Welcome to this week's Prose for Thought. It is great to continue to see all the talented creatives that join this linky each week. I really do love reading all of your work and I love the fact that you share it here.
Today is day 21 of NaPoWriMo – just 9 days left of writing a poem each day and I am really enjoying the whole challenge. It has really improved my creativity and I have learned so much. I am going to miss it when it finishes! If you would like to see what I have done so far then just go across to the NaPoWriMo2016 under the categories menu on my blog.
I have shared one of this week's poems on the link below and will link up today's one too later.
If you would like your poem included in the next BritMums Poetry and Prose round-up then the next one goes live on Wednesday 4th May. If you would like to be included then please message me at vickywelton@hotmail.com or you can tweet either Maddy (@writingbubble) or me (@vicwelton) using the hashtag #BritMumsPoetry.
If you have written a piece of original poetry, prose or fiction and would like to share it, then please link up below. The link is open until 9.30pm the following Monday. I will try my utmost to read every single linker. I would also love it if you share your poem and use the #Prose4T hashtag. If you include me in your tweet – @vicwelton – I will ensure that I retweet you. Please also use my badge below if you are linking up – it helps to publicise the linky to others.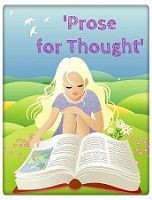 <div align="center"><a href="https://www.vevivos.com/prose-for-thought" title="Prose for Thought"><img src=" http://i1322.photobucket.com/albums/u568/ToriWel/Proseimagesmall_zps637beb08.jpg " alt="Prose for Thought" style="border:none;" /></a></div>