Welcome to this weeks Prose for Thought. Here we are at the end of March already! Massive thanks to everyone who linked up last week.
Tomorrow is the beginning of NaPoWriMo (National Poetry Writing Month) where you write a poem a day. I am not sure yet whether or not I am going to follow it. I did a few years back and completed the task. If you are interested in going ahead then Paper Swans have a great writing prompts booklet which you can download from their site.
If you have written a piece of original poetry, prose or fiction and would like to share it, then please link up below. The link is open until 9.30pm the following Monday. I will try my utmost to read every single linker. I would also love it if you share your poem and use the #Prose4T hashtag. If you include me in your tweet – @vicwelton – I will ensure that I retweet you. Please also use my badge below if you are linking up – it helps to publicise the linky to others.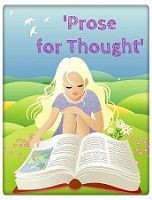 <div align="center"><a href="https://www.vevivos.com/prose-for-thought" title="Prose for Thought"><img src=" http://i1322.photobucket.com/albums/u568/ToriWel/Proseimagesmall_zps637beb08.jpg " alt="Prose for Thought" style="border:none;" /></a></div>
Copyright protected by Digiprove © 2016 Victoria Welton