Welcome to the first Prose for Thought of 2016. I am looking forward to a year of creativity for so many different reasons and I hope to see lots of yours too.
Yesterday evening I went to meet with a lady who deals with self-publishing. She lives fairly locally and Ross found her via a recommendation in The Writers and Artists Yearbook – there are only 4 in the country. I went there mainly for his books (which are written and about to start the publishing process) but I also found it useful for the books I am looking to compile this year. She spoke to me about adding value and I came away with even more ideas. The first rung of the ladder has been reached. I love meetings like that!
If you nip over to the Britmums site today then you will find this months Poetry and Prose Round-Up. There were some great posts to choose from over the past month and a really good mixture of seasonal writing. I find Christmas really does spur the imagination.
On the poem which I posted yesterday, I said that I am not going to restrict myself in following a prompt each week like I did last year. I will still be trying to attach a photo but I will not be so strict with it. What I will be doing is linking on a more regular basis to #ThePrompt, hosted by Sara at Mum Turned Mom. This will really help when I get stuck for ideas!
So, if you have written a piece of original poetry, prose or fiction and would like to share it, then please link up below. I will try my utmost to read every single linker. I would also love it if you share your poem and use the #Prose4T hashtag. If you include me in your tweet – @vicwelton – I will ensure that I retweet you. Please also use my badge below if you are linking up – it helps to publicise the linky to others.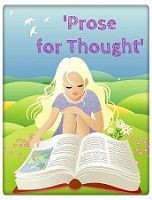 <div align="center"><a href="https://www.vevivos.com/prose-for-thought" title="Prose for Thought"><img src=" http://i1322.photobucket.com/albums/u568/ToriWel/Proseimagesmall_zps637beb08.jpg " alt="Prose for Thought" style="border:none;" /></a></div>
Copyright protected by Digiprove © 2016 Victoria Welton