I did it! My final photography and poetry prompt for the year is the word 'reflect'. I have decided to reflect on the past year by summarising it in a poem – but I will come to that in a moment.
The photo is one that was chosen for a prize a few weeks back over on the Point Shoot linky with Snowing Indoors and You Baby Me Mummy. It is the second photo that I have won a prize for this year and I am hoping to keep up that momentum in 2016. It depicts focussing on reflections in puddles. The reason I like them is because it looks like you are taking a glimpse into another dimension, which I guess what the New Year is…another time dimension!
Now on to my poem. I have recorded the reading and you will find it underneath the words. I will also be setting it to a video which depicts many of my photos from the past year.
Reflect
As I reflect upon my year, full of trials and tribulations
I can also see the happy times, full of joy and celebrations
First up there was January, the month when Grace turned 8

At that point the love for my camera started to escalate
Then came February and the days were getting longer
Started up a photography course and my knowledge, it got stronger
March saw the early arrival of my nephew, Henry

Watching my sister's love for him, she's such a great mummy
Then in April a letter arrived and started up hard times
Despite the lawyers being involved, I had committed no crimes
Then along came May and I got another year older
Continuing with the struggle, I felt the weight upon my shoulder
June it meant a detox, feeling healthier than I had in years
July I had a court date and had to face my fears

That month was also Soar Mill Cove – our favourite time away
We all resolved that we would go back and have another stay
August, Grace spoke to authorities, it was the bravest thing ever
Then we went on to Pontins and braved the area and weather!

September it was back to school with Grace starting in year four
The difficulties that were testing us were hopefully no more
October was a time for London outings and a Shrek experience
We also went to an animal event where bats made an appearance

Our friends, they got married and I resolved to write a book
Full of poetry readings – hopefully someone will take a look!
We also made a decision on how our family will unfold
In the New Year I will share with you the story to be told
November was a turning point for so very many things
Looking forward to seeing just what our decision brings
December saw a new look and some things had to go
And that included saying farewell to my linky, PoCoLo
And now as I reflect on the year that was Two Thousand and Fifteen
I will make sure that Twenty Sixteen is the best there's ever been.
Victoria Welton 30th December 2015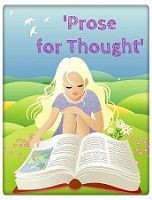 Copyright protected by Digiprove © 2015 Victoria Welton