Welcome to this week's Prose for Thought. Thank you to all the wonderful linkers who joined in last week, I am so pleased I managed to get round to reading and commenting on them all.
Just in case you missed, it Maddy, my co-editor and blogger at Writing Bubble, has completed this month's poetry and prose round-up over on the BritMums site. There is lots of great poetry being shared. I shall be compiling the next one over the next few weeks and it will be published on Wednesday 6th January 2016 so if you have any poetry you would like included then please tweet me @vicwelton.
My prompt this week is the word 'festive' and I have decided to write an acrostic poem.
I am well aware that I am still behind on my poems but I fully intend to make a concerted effort to catch up within the next two weeks so prepare yourself for lots of poems! The following are the prompts that I need to be writing as we are now at week 51:
thankful
comfort
merry
family
giving
Please remember that you do not have to join in with my prompts – they are only a suggestion.
Just to say that I will be continuing with Prose for Thought over the Christmas period so please do feel free to link up with anything that you have written.
So, if you have written a piece of original poetry, prose or fiction and would like to share it, then please link up below. I will try my utmost to read every single linker. I would also love it if you share your poem and use the #Prose4T hashtag. If you include me in your tweet – @vicwelton – I will ensure that I retweet you. Please also use my badge below if you are linking up – it helps to publicise the linky to others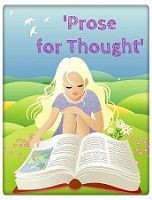 <div align="center"><a href="https://www.vevivos.com/prose-for-thought" title="Prose for Thought"><img src=" http://i1322.photobucket.com/albums/u568/ToriWel/Proseimagesmall_zps637beb08.jpg " alt="Prose for Thought" style="border:none;" /></a></div>
Copyright protected by Digiprove © 2015 Victoria Welton