Welcome to this week's Post Comment Love. I have been overwhelmed with the lovely comments and support I have had since I told you that I would be leaving this linky behind. I am starting to understand how David Tennant felt when he left Doctor Who – and Matt Smith for that matter!
Anyway, it is an onwards and upwards kind of year next year! I also said on Prose for Thought yesterday that I would be changing my logo and the look of my blog and going for something a little more creative. Hence the new tag line on my site (the eagle-eyed amongst you may have already noticed).
I was pleased to get round to commenting on all your posts last weekend so thank you if you linked up. Yesterday, Ross and I went and saw Grace perform in her drama play and this morning I am off to the school carol service at our local church (something I was devastated to miss last year). Tomorrow Grace is off to Wookey Hole with the Brownies to visit Father Christmas. A bit earlier in the week I received a call from Rainbow Owl asking if I would come and help out so I am off on the trip too! So lots of exciting things happening!
This week I have written about my mum's special bread sauce, a post about getting your eyes tested if you are a driver, a great new giveaway to win all 4 dolls from Project Mc2, details of the Gift Circle and a great discount for the Portable North Pole. On top of that, there is my usual poem and the Prose for Thought linky.
The Facebook Group and Google + community for #PoCoLo will be continuing so please feel free to request joining if you haven't already.
If you are a regular here then it would be great if you spread the #PoCoLo word. However, if you are new here then welcome! Post Comment Love is all about sharing posts which you have written this week which just haven't got the attention they deserve and, with them all in one place, we can help each other share the comment love. This is one of the easiest links EVER. You don't have a 'special theme' to have to write about, the post can be personal, sponsored, a photo, a review, a competition, your own linky, something you've linked to a linky….WHATEVER you like – it's one you've already written this week! If you want some publicity and attention, then you are in the right place!
Please make sure you go across and comment on at least two other linkers posts. Linkys work if everyone supports each other, then, spread the #PoCoLo about this link up on Twitter. The post you link up has to have been written in the last week. The link will go up every Friday at 6.30am and close on Sunday evening at 8pm. I will make sure I retweet anyone and also try my best to tweet out the posts with the PoCoLo badge being displayed on either the post or the sidebar.
I have a list for the Newbie Showcase running into May 2016. Please note that I am not taking requests for this at the moment but will look to change that once the new host or hosts are in place.
This week please welcome a PoCoLo regular, Jenni from Odd Socks and Lollipops.
Hello, I am Jenni and I blog over at Odd Socks and Lollipops, which is a collection of my random thoughts about life, the universe and being a parent to a toddler. I stared blogging in the summer of last year, but in January I took the leap to self-hosted and changed my blog name; and Odd Socks and Lollipops was born.
I created my blog as an online diary for my daughter, and to share our breastfeeding journey. But my blog has turned in to so much more than that. After a while I started to share my own experiences and my random, sometimes funny (I hope) thoughts. Some of the posts I have been most proud of are the random ones like,22 reasons to eat a biscuit and How to change a toddlers nappy in 50 easy steps.
I have written a lot about our breastfeeding journey, we are coming up on the two year mark! We've had a lot of ups and downs and I feel like it's an important topic to write about. I have also, shared my experiences of suffering with Hyperemesis Gravidarumand in some small way I hope have raised a bit of awareness about a horrible and often misunderstood pregnancy condition. And also my fears, doubts and thoughts about having a second child and 'risking' HG again.
I have found a lot of support through blogging, not just in terms of breastfeeding and HG but also when I shared a post about howmy father is a disappointment. It was a really strange experience because as much as it comforted it also made me sad knowing that other people had faced similar disappointment as a child.
I found blogging about my return to work after maternity leave and the difficulties of expressing whilst at work, helped me to work through my options and to make the decision to give up work and look after my daughter full time.
I can honestly say that starting my blog whilst I was on maternity was one of the best decisions I have made – I have gained so much through blogging, not only in terms of my own blog but the other blogs I have read too.
A great big thank you to Victoria for having me on the Newbie Showcase today!
You can find me on Twitter, Instagram, Facebook, Pinterest, Bloglovin and Klout.
Don't forget to visit Jenni and at least two other posts on this link up (don't mind if they are not mine!) and have a great weekend x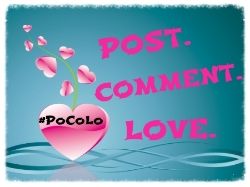 <div align="center"><a href="https://www.vevivos.com/post-comment-love" title="Post Comment Love"><img src=" http://i1322.photobucket.com/albums/u568/ToriWel/4e4a1bf6-07cb-494b-b06e-f959b1fe1311_zps654d027a.jpg" alt="Post Comment Love" style="border:none;" /></a></div>