Welcome to this week's Post Comment Love. I firstly have to say how touched I was by all the wonderful comments I received when I announced that after the 18th December I will no longer be hosting #PoCoLo. It was great to hear how many people used this as their first ever linky and the kind and supportive words from everyone too.
I have had a number people express their interest in hosting – but they have contacted me from all over the place! So if it was you, then please do get in touch by email so I have your messages all in one place. My email address is vickywelton@hotmail.com. It would be great to see it continue.
As I explained in my Prose for Thought post yesterday (which I will be continuing with), I am in the process of compiling a book which I will be looking at self-publishing next year. I have also shared my thoughts on Blogfest, published a video review of a Bratz doll, details of a short film supporting Alzheimers Research UK and written a post about which famous guest would attend my dream Christmas dinner party with Furniture Village. I am also running 4 different giveaways at the moment so please take a look!
I am really sorry that I have not got round to commenting from last week yet. I have a clear evening both tonight and tomorrow so I will be playing catch up!
The Facebook Group and Google + community for #PoCoLo will continue so please feel free to request joining if you haven't already.
If you are a regular here then it would be great if you spread the #PoCoLo word. However, if you are new here then welcome! Post Comment Love is all about sharing posts which you have written this week which just haven't got the attention they deserve and, with them all in one place, we can help each other share the comment love. This is one of the easiest links EVER. You don't have a 'special theme' to have to write about, the post can be personal, sponsored, a photo, a review, a competition, your own linky, something you've linked to a linky….WHATEVER you like – it's one you've already written this week! If you want some publicity and attention, then you are in the right place!
Please make sure you go across and comment on at least two other linkers posts. Linkys work if everyone supports each other, then, spread the #PoCoLo about this link up on Twitter. The post you link up has to have been written in the last week. The link will go up every Friday at 6.30am and close on Sunday evening at 8pm. I will make sure I retweet anyone and also try my best to tweet out the posts with the PoCoLo badge being displayed on either the post or the sidebar.
I have a list for the Newbie Showcase running into May 2016. Please note that I am not taking requests for this at the moment but will look to change that once the new host or hosts are in place.
Please welcome Mo from Adventures of a Novice Mum to this week's newbie show case.
Hello, I'm Mo from Adventures of a Novice Mum. I discovered the mummy blogging world over a year ago and it pressed my creative button in all the 'write' 🙂 ways. The more blogs I read, the more dare I felt to join in.
After months of consideration, attending Blogfest as a future blogger, and weeks of thought showering my blog name and tag line, I started blogging at the end of last year. And woman, I'm I thankful I did? You bet I am!
It has become a very important outlet for the thought factory in my head, and I just wish I have more time to do it. Juggling full-time work and blogging is challenging, and motherhood sometimes makes me feeling like running away.
My first post was inspired by Unilever's #ClearAPlate campaign at Blogfest 2014, and I was so delighted to write about it.
The idea of writing to document elements of my life for my child(ren) is exciting, and blogging to highlight social justice issues for positive societal change is invigorating. I'm hoping to write more about charitable causes, and to join in more campaigns like#ConsentIs and #WorldToiletDay.
I really enjoy writing about my experiences of motherhood; motherhood is so intriguing, isn't it. I've especially enjoyed writing posts about keeping up with motherhood, and my struggles as a working mum.
Breastfeeding is an important part of my motherhood journey, and I'm enjoying developing my breastfeeding and I project. Participating in the Keep Britain Breastfeeding Scavenger Hunt during the Summer was a lovely highlight of my breastfeeding journey.
My most popular post so far is about how I came to accept breastfeeding my child to sleep as our norm.
Blogging is a steep learning curve, isn't it? I enjoy reading about people's blogging journey and tips, and I hope to write more about mine. My Klout badge display tutorial, and my learning from 12 days of blogging were such delights to write. Watch out for my revamped blogging linky, SoMeBlogLuv about this.
You can find me on Klout, Twitter, Facebook, Instagram, Pinterest, G+, Linkedin, and Youtube.
Thanks so much Victoria for featuring me on your newbie showcase. I'm so thankful to be blogging about my life and thoughts. It's really fab to connect with so many lovely folks, like you, on the way.
Don't forget to visit Mo and at least two other posts on this link up (don't mind if they are not mine!) and have a great weekend x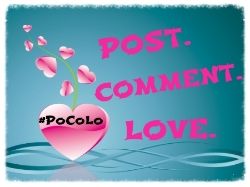 <div align="center"><a href="https://www.vevivos.com/post-comment-love" title="Post Comment Love"><img src=" http://i1322.photobucket.com/albums/u568/ToriWel/4e4a1bf6-07cb-494b-b06e-f959b1fe1311_zps654d027a.jpg" alt="Post Comment Love" style="border:none;" /></a></div>
Copyright protected by Digiprove © 2015-2017 Victoria Welton