The weeks keep rolling on and here we are, back on Friday and Post Comment Love. I hope you have all had a great week, wherever you are and whatever you have been doing.
My week has been pretty standard until last night when I got ahead of the game and wrapped up 90% of my family's Christmas presents. I have never been that organised in my life! The reason is so that I can take them with me when I travel up to Surrey tonight to stay with my Mum as I am at Blogfest tomorrow – so I look forward to seeing any of you who are going and I will make sure I catch up on commenting on your posts when I return.
I have written a number of new posts this week including two giveaways: one to win 1 of 2 Family Calendars from Photobox and the other to win 2 board games from Drumond Park. I have also written about the excitement of buying for your baby, a review of Grace's latest pair of GORE-TEX shoes, a review of an Orchard Toys puzzle, a review of Canvas Prints and a really easy recipe which is in the link below together with this week's poem called 'Content'.
If you are a regular here then it would be great if you spread the #PoCoLo word. However, if you are new here then welcome! Post Comment Love is all about sharing posts which you have written this week which just haven't got the attention they deserve and, with them all in one place, we can help each other share the comment love. This is one of the easiest links EVER. You don't have a 'special theme' to have to write about, the post can be personal, sponsored, a photo, a review, a competition, your own linky, something you've linked to a linky….WHATEVER you like – it's one you've already written this week! If you want some publicity and attention, then you are in the right place!
Please make sure you go across and comment on at least two other linkers posts. Linkys work if everyone supports each other, then, spread the #PoCoLo about this link up on Twitter. The post you link up has to have been written in the last week. The link will go up every Friday at 6.30am and close on Sunday evening at 8pm. I will make sure I retweet anyone and also try my best to tweet out the posts with the PoCoLo badge being displayed on either the post or the sidebar.
I have a list for the Newbie Showcase running into May 2016. If you would like to be featured then please email me at vickywelton@hotmail.com so I can put you on the rota. Remember, your blog needs to be under a year old to feature from the time of sending your email to me.
I discovered that the original newbie showcase did not exist any more earlier in the week when I went to seek them out to send them a reminder. PLEASE if you are on the list, please try and remember your date and send me your write up in good time.
As a result, I randomly picked a new blogger who emailed me last week. Please say hello to Caroline from Cow Country Housewife whose blog is just 3 months old.
I'm Caroline. I started my blog, Cow Country Housewife, back in August 2015 and I started posting every day in September. The name "Cow Country Housewife" came from where I live: I live among the Amish people in quaint, rural Lancaster, Pennsylvania.
I started blogging because I was truly lonely. I got
married young
and I started a family young… long before any of my friends had even gotten into serious relationships. I was looking for community. I've always enjoyed writing, and blogging offers the ability to make money from writing and connecting. I decided to give it a try!
My first post on August 7 was Cloth Diaper 101. I posted maybe 4 posts in August, but really started posting daily in September. I've posted two "Lessons I've Learned From Blogging" posts (there's a pretty big difference between the
first
and
second
months) and there's still so much I have to learn! I'm enjoying everything from the community to the support. It's been so great getting to know so many different people and connecting with them through their blogs.
I'm passionate about saving money while still being healthy. Almost every other frugal blog out there has been frugal by buying processed foods or tons of household products from big brands using coupons. But not enough blogs have been able to show how you can still save money while ditching processed foods and staying away from products whose names you can't pronounce. I am hoping to show people that it's possible to live a full, happy life while saving money without processed foods and chemicals. The way that I do that is by making almost all of my recipes at home, cloth diapering, shopping local, and spending time not money to show love.
Please pop over and say hi to Caroline and don't forget all the fab linkers below. I hope you all have a wonderful weekend xx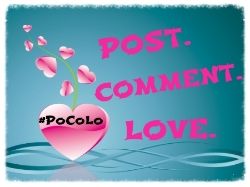 <div align="center"><a href="https://www.vevivos.com/post-comment-love" title="Post Comment Love"><img src=" http://i1322.photobucket.com/albums/u568/ToriWel/4e4a1bf6-07cb-494b-b06e-f959b1fe1311_zps654d027a.jpg" alt="Post Comment Love" style="border:none;" /></a></div>
Copyright protected by Digiprove © 2015 Victoria Welton