Welcome to this week's Prose for Thought and thank you to those who linked up last week.
If you haven't seen it yet, the BritMums Poetry and Prose round up has been edited by yours truly this month. Take a look if you want to find some great poetry.
My poem this week is the word 'content'. I decided to skip a prompt because I felt the need to write this one!
I am a bit behind the prompt stakes and have some catching up to do!! The following are the prompts that I need to be writing as we are now at week 47:
laughter
treat
warmth
thankful
comfort
I need to get into my creative zone to catch up on that lot!
I am really looking forward to reading everyone's posts.
So, if you have written a piece of original poetry, prose or fiction and would like to share it, then please link up below. I will try my utmost to read every single linker. I would also love it if you share your poem and use the #Prose4T hashtag. If you include me in your tweet – @vicwelton – I will ensure that I retweet you. Please also use my badge below if you are linking up – it helps to publicise the linky to others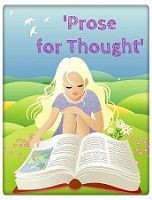 <div align="center"><a href="https://www.vevivos.com/prose-for-thought" title="Prose for Thought"><img src=" http://i1322.photobucket.com/albums/u568/ToriWel/Proseimagesmall_zps637beb08.jpg " alt="Prose for Thought" style="border:none;" /></a></div>
Copyright protected by Digiprove © 2015 Victoria Welton