Hi everyone, and welcome to this week's Post Comment Love. The middle of November already!! I am sorry that I am rather behind on my commenting but I will get to you.
This week has been a really interesting one for me. I haven't done any acting in a while and yesterday and the day before I spent the day on a film set making a short over near Dorchester. I played a rather evil mother I'm afraid! But it was extremely enjoyable and the crew were lovely.
Last weekend Ross and I paid a visit to The Fertility Show. We have been trying for over two and a half years and now have a plan of what we would like to do. I have been keeping a diary and will eventually be sharing this on my blog.
This week I have written a review of the WWE Live Tour in Cardiff, the latest floor trends from Carpetright and in the link below I have included my photography and poetry prompt 'memories'. I am also sharing a post I wrote over on my travel blog this week.
If you are a regular here then it would be great if you spread the #PoCoLo word. However, if you are new here then welcome! Post Comment Love is all about sharing posts which you have written this week which just haven't got the attention they deserve and, with them all in one place, we can help each other share the comment love. This is one of the easiest links EVER. You don't have a 'special theme' to have to write about, the post can be personal, sponsored, a photo, a review, a competition, your own linky, something you've linked to a linky….WHATEVER you like – it's one you've already written this week! If you want some publicity and attention, then you are in the right place!
Please make sure you go across and comment on at least two other linkers posts. Linkys work if everyone supports each other, then, spread the #PoCoLo about this link up on Twitter. The post you link up has to have been written in the last week. The link will go up every Friday at 6.30am and close on Sunday evening at 8pm. I will make sure I retweet anyone and also try my best to tweet out the posts with the PoCoLo badge being displayed on either the post or the sidebar.
I have a list for the Newbie Showcase running into May 2016. If you would like to be featured then please email me at vickywelton@hotmail.com so I can put you on the rota. Remember, your blog needs to be under a year old to feature from the time of sending your email to me.
This week please say hello to the the wonderful and very talented Katy from from Carry On Katy.
Hi, I'm Katy and I am a mother, professional musician and humour blogger at www.carryonkaty.com. I started blogging in the Summer of 2014 after my pals encouraged me to start a blog as they found my Facebook statuses 'hilarious'. I have always had a passion for writing and was an aspiring author as a child…but then I took up the cello so it all went out of the window. I write mainly funny posts about my family/motherhood and any topic that takes my fancy. My only goal is to make people laugh!
I live just outside London with my two little boys and I am married to Rick Astley's bass guitarist…not quite a rock star but close enough! I do love a bit of Rick.
I love ALL juices made from crushed grapes and I'm a passionate fan of the Big Mac…with extra pickles. When I'm not playing my cello, I can be found scraping child vomit off my cardigan sleeves or cutting fish fingers into bite-sized pieces.
Some popular posts:
The Top 5 Toddler Tantrums..And How To Handle Them:
www.carryonkaty.com/blog/terribletwos
5 Benefits Of Being Middle-Aged
www.carryonkaty.com/blog/middleaged
What's the Worst That Could Happen?
www.carryonkaty.com/blog/whatstheworstthatcouldhappen
My social links:
www.instagram.com/carry_on_katy
https://plus.google.com102343667713785060175/about
Please pop over and say hi to Katy and don't forget all the fab linkers below. I hope you all have a wonderful weekend xx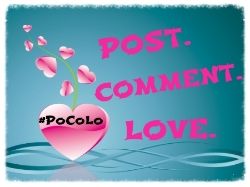 <div align="center"><a href="https://www.vevivos.com/post-comment-love" title="Post Comment Love"><img src=" http://i1322.photobucket.com/albums/u568/ToriWel/4e4a1bf6-07cb-494b-b06e-f959b1fe1311_zps654d027a.jpg" alt="Post Comment Love" style="border:none;" /></a></div>
Copyright protected by Digiprove © 2015 Victoria Welton