Hi everyone and welcome to this week's Post Comment Love. I still have 18 or so posts to get round from last week so bear with me and I will be with you if you have been missed!
This week has meant a lot of running around with my jobs and playing catch up following half term – but I wouldn't have it any other way! We had a great time together and I managed to spend some quality time with Grace. Last night we went to see the WWE tour in Cardiff so it was a very late one for us (you may have gathered that I typed this post up yesterday afternoon and my tweets may be a bit delayed this morning!) and then tomorrow Ross and I are off to a conference in London.
This week, I have written reviews of both the Shrek Adventure and a theatre experience called 'Invisible Treasure'. On top of that, there has been my usual poetry prompt which this week belongs to the word 'Organisation'. Don't forget, if you write poetry or short fiction then I also run the linky Prose for Thought, which goes up every Thursday and is open until Monday evening.
In case you hadn't heard, I have decided to change things slightly in the way I do Social Follow Love. It is now going to run the first and third week of the month. For the first two weeks it is for you to link any of your social media accounts. For the second two, it will be for giving out some Klout to other linkers. So, if there are any social media accounts where you would like more followers then please nip over and link up – you can link as many as you like. If you do link, then, over the course of the two weeks, I shall share your social media account on our Facebook group. Also, don't forget our #SoFoLo community on Google + and our #PoCoLo Facebook group where you can go and post your PoCoLo post for some more shares as well as any of your social media accounts of yours that need more followers.
If you are a regular here then it would be great if you spread the #PoCoLo word. However, if you are new here then welcome! Post Comment Love is all about sharing posts which you have written this week which just haven't got the attention they deserve and, with them all in one place, we can help each other share the comment love. This is one of the easiest links EVER. You don't have a 'special theme' to have to write about, the post can be personal, sponsored, a photo, a review, a competition, your own linky, something you've linked to a linky….WHATEVER you like – it's one you've already written this week! If you want some publicity and attention, then you are in the right place!
Please make sure you go across and comment on at least two other linkers posts. Linkys work if everyone supports each other, then, spread the #PoCoLo about this link up on Twitter. The post you link up has to have been written in the last week. The link will go up every Friday at 6.30am and close on Sunday evening at 8pm. I will make sure I retweet anyone and also try my best to tweet out the posts with the PoCoLo badge being displayed on either the post or the sidebar.
I have a list for the Newbie Showcase running into May 2016. If you would like to be featured then please email me at vickywelton@hotmail.com so I can put you on the rota. Remember, your blog needs to be under a year old to feature from the time of sending your email to me.
At the time of scheduling (because we had to leave at 3pm yesterday), I hadn't received the write up for the newbie showcase BUT if I do get it through then I will make sure that I update this post 🙂
Please do pay a visit to at least two of your fellow linkers below. I hope you all have a wonderful weekend xx
Go Over and share your Social Media Accounts with #SoFoLo HERE.
Link Your PoCoLo Posts here: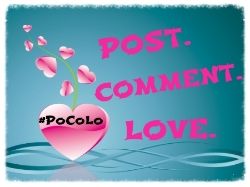 <div align="center"><a href="https://www.vevivos.com/post-comment-love" title="Post Comment Love"><img src=" http://i1322.photobucket.com/albums/u568/ToriWel/4e4a1bf6-07cb-494b-b06e-f959b1fe1311_zps654d027a.jpg" alt="Post Comment Love" style="border:none;" /></a></div>
Copyright protected by Digiprove © 2015 Victoria Welton