Welcome to the end of October and this week's Post Comment Love…wait..what?! Really?! Wasn't it just Christmas a moment ago? I am sure that someone pushed the fast forward button this year!
It was so lovely to see a number of new bloggers last weekend. Welcome to you if you were one of those and thank you to the people who continue to link up week after week. I never get bored of reading any of the blogs that link up and I was so organised last weekend I even managed to tweet all your posts.
I hope you are having as much as fun as we are this half term. On Wednesday we went to the Shrek Experience in London which has been turned into a spooky event to celebrate Halloween. We also visited an interactive theatre event yesterday with no actors and no plot – yes we were intrigued too! More on that soon. Plus we met some real, live bats at the Animal Jam event yesterday afternoon. We are still up in Surrey visiting my family at the moment and are back home today to spend the weekend relaxing before school starts for the Christmas term.
This week I have shared details on EasiYo the yoghurt maker, a casserole dish from the Prestige Vintage Collection including a free from recipe and I have shared 3 acrostic poems which Grace wrote as part of her homework a couple of weeks ago – which I have linked up below.
I have decided to change things slightly in the way I do Social Follow Love. It is now going to run the first and third week of the month. For the first two weeks it is for you to link any of your social media accounts. For the second two, it will be for giving out some Klout to other linkers. So, if there are any social media accounts where you would like more followers then please nip over and link up – you can link as many as you like. If you do link, then, over the course of the two weeks, I shall share your social media account on our Facebook group. Also, don't forget our #SoFoLo community on Google + and our #PoCoLo Facebook group where you can go and post your PoCoLo post for some more shares as well as any of your social media accounts of yours that need more followers.
If you are a regular here then it would be great if you spread the #PoCoLo word. However, if you are new here then welcome! Post Comment Love is all about sharing posts which you have written this week which just haven't got the attention they deserve and, with them all in one place, we can help each other share the comment love. This is one of the easiest links EVER. You don't have a 'special theme' to have to write about, the post can be personal, sponsored, a photo, a review, a competition, your own linky, something you've linked to a linky….WHATEVER you like – it's one you've already written this week! If you want some publicity and attention, then you are in the right place!
Please make sure you go across and comment on at least two other linkers posts. Linkys work if everyone supports each other, then, spread the #PoCoLo about this link up on Twitter. The post you link up has to have been written in the last week. The link will go up every Friday at 6.30am and close on Sunday evening at 8pm. I will make sure I retweet anyone and also try my best to tweet out the posts with the PoCoLo badge being displayed on either the post or the sidebar.
I have a list for the Newbie Showcase running into May 2016. If you would like to be featured then please email me at vickywelton@hotmail.com so I can put you on the rota. Remember, your blog needs to be under a year old to feature from the time of sending your email to me.
For this week's newbie showcase, please welcome the lovely Claire from Life, Love and Dirty Dishes.
My name is Claire, I live in Hampshire and I am rapidly approaching the end of my mid thirties. I blog at Life, Love and Dirty Dishes. I'm a mum of two boys and wife of one. Living in a house full of testosterone both amuses and bemuses me on a daily basis. I am a chocolate lover, Gerard Butler enthusiast, and an expert at not having a clue what I am doing.
I started my blog in June last year as a creative outlet and a place to find my voice again after being swept up by the all encompassing life force of motherhood. I had no idea what blogging or running a website involved. It was a steep learning curve. But I very quickly fell in love with my little space on the internet and the amazing blogging community.
My blog is mainly light hearted. I try to write relate-able posts that make people smile, hopefully laugh. I love being a parent, but it's a tough gig, and some days we all need some light relief.
I host a linky on Fridays for funny parenting posts called Friday Frolics – The Linky With The Giggles. Every week I am awed by the talent of the bloggers who link up and test my pelvic floor muscles to the max.
I have also recently launched a guest blogging series called Rookie Mistakes. It's for all those bloggers who are brave enough to admit they have made a few parenting mistakes along the way. Then the rest of us can breath a sigh of relief that were not the only ones leaving the house without a change bag the day your son decides to projectile vomit all over you in Next, and you have to drive home in your bra. Maybe that one was just me?
So if you fancy an honest, light hearted, and sometimes soppy look at parenting, pop on over and say hi.
A few of my most popular posts:
The Toddler-o (An alternative version of the Gruffalo)
Mummy Friends: 10 Reasons You Need Them
We Are Not Rivals
Being a Mother
Top 5 Misdemeanors of Topsy & Tim
You can find me on Facebook and Twitter
Blog Links:
Blog
Friday Frolics
Rookie Mistakes
Please pop over and say hi to Claire and don't forget all the fab linkers below. I hope you all have a wonderful weekend xx
Go Over and share your Social Media Accounts with #SoFoLo HERE.
Link Your PoCoLo Posts here: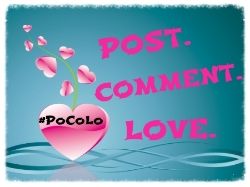 <div align="center"><a href="https://www.vevivos.com/post-comment-love" title="Post Comment Love"><img src=" http://i1322.photobucket.com/albums/u568/ToriWel/4e4a1bf6-07cb-494b-b06e-f959b1fe1311_zps654d027a.jpg" alt="Post Comment Love" style="border:none;" /></a></div>
Copyright protected by Digiprove © 2015 Victoria Welton