A couple of weeks ago, Grace was set some homework by school that she excitedly shared with Ross and I. She had been asked to write 3 acrostic poems using the following words; COUPLE, YOUNG and SOUTHERN. Not an easy task for an 8 year old but she certainly rose to the challenge.
I was so impressed with what she had written that I promised her that I would share it on my blog. She also wrote all the poems out again neatly, just for me and they are now on my wall.
Couple
Cats playing and having fun
Outside in the garden
Up on the fence
Pulling each others tails
Loud and noisy
Ending the day with a big yawn
Young
Young little pups playing
Outside in the garden
U-apping all the time
Nothing in their way
Grateful for the little pups
Southern
Something's out there
Outside in the grass
Unseeable and quiet
Taking little steps backwards
Hurry to the front door
Entering the street
Running and running
Nothing in my way
Grace, aged 8. Thursday 15th October 2015
I think my favourite has to be Southern. Which one is yours?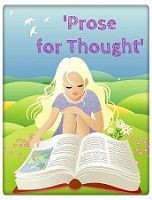 Copyright protected by Digiprove © 2015 Victoria Welton