Happy Half-Term Friday everyone and welcome to Post Comment Love. Firstly, I just need to say that there are a few posts from last week that I still need to get round but I will be there by the end of today so please bear with me.
We had a wonderful time at Jon and Nikki's wedding last weekend and everyone received the poem that Ross and I wrote for the reading really well. There were lots of lovely compliments and the registrar stated that he heard lots of poems and suggested that we get that one published.
It has been a tricky week for one reason and another and one of my favourite sayings has been put to good use; 'this too shall pass' (I like to imagine it in the voice of Gandalph!).
Anyway, this week I have shared a few posts on my blog, including an interview with Hue and Cry at Rewind, an app to name your car, the new daytime menu at Brewers Fayre, Halloween, Zazzle style and a beautiful coat from Nomads Clothing. On top of that there has been the regular Prose for Thought and one my poems entitled 'Imagination'. I have linked up a couple below.
In case you weren't aware, I have decided to change things slightly in the way I do Social Follow Love. It is now going to run the first and third week of the month. For the first two weeks it is for you to link any of your social media accounts. For the second two, it will be for giving out some Klout to other linkers. So, if you would like to be klouted then please nip over and link up. there are only 11 linkers over there at the moment so those people have received Klout from me twice this last week. If you do link, then, over the course of the two weeks, I shall all of your Klout profiles on our Facebook group. Also, don't forget our #SoFoLo community on Google + and our #PoCoLo Facebook group where you can go and post your PoCoLo post for some more shares as well as any of your social media accounts of yours that need more followers.
If you are a regular here then it would be great if you spread the #PoCoLo word. However, if you are new here then welcome! Post Comment Love is all about sharing posts which you have written this week which just haven't got the attention they deserve and, with them all in one place, we can help each other share the comment love. This is one of the easiest links EVER. You don't have a 'special theme' to have to write about, the post can be personal, sponsored, a photo, a review, a competition, your own linky, something you've linked to a linky….WHATEVER you like – it's one you've already written this week! If you want some publicity and attention, then you are in the right place!
Please make sure you go across and comment on at least two other linkers posts. Linkys work if everyone supports each other, then, spread the #PoCoLo about this link up on Twitter. The post you link up has to have been written in the last week. The link will go up every Friday at 6.30am and close on Sunday evening at 8pm. I will make sure I retweet anyone and also try my best to tweet out the posts with the PoCoLo badge being displayed on either the post or the sidebar.
I have a list for the Newbie Showcase running into April 2016. If you would like to be featured then please email me at vickywelton@hotmail.com so I can put you on the rota. Remember, your blog needs to be under a year old to feature from the time of sending your email to me.
This week's newbie showcase is another blogger in the USA. Please welcome the wonderful Lysa from Welcome to my Circus.
Ciao!! My name is Lysa and I blog over at Welcome to my Circus. I am a former journalist, a poet, an author, a mother of four, Nona to six grandbabies with one more on the way. With all the chaos I am always saying that "My life is SERIOUSLY like a Circus BUT… I wouldn't have it any other way!!" So I thought to myself, "What a perfect name for my blog!!" After all, I do write about the crazy, silly, and often ridiculous things that just so happen to occur in my daily life. AND… We can't forget about the nasty and always rude Mr. RSD; I write about him too!!
When I began my blog back on January, 23, 2014, I didn't even really know what a blog was to be honest. Well, other than my sister, Melissa's occasional blog posts that is. But, I longed to write again. It was something my soul was screaming at me to do ever since I finished my first book, "Gia's Journey," (which is not published… Yet!!). Little did I know that I was about to embark upon a fascinating new adventure. One that I have grown to love and at times hate.
You see, living with the rare disease RSD (Reflex Sympathetic Dystrophy) I am confined to my bed and my house A LOT so blogging became more than a hobby to me it became my passion. I had an outlet for my writing again and I was making friends. I no longer felt isolated or lonely. I had people, online of course, keeping me company and brightening my days with their incredibly kind, loving words. But unfortunately I had to take a break due to my health this summer so I'm starting all over again.
I lost a bunch of readers while I was away so I'm a newbie all over again but just a little wiser knowledgeable about the blogging world. I don't mind starting over as what I want to write about isn't the same as when I first began because well, my life has changed so very much since that day back in January of 2014. I began writing for only an audience of one, me, and as long as I am able to feed my creative soul with my writing that is all that truly matters to me.
I'd love for you to stop by and say hi sometime but before you do be sure to grab yourself some cotton candy, circus peanuts, and a refreshing beverage of your choice as you might just want to stay awhile. Once you are there please make yourself at home and feel free to snoop around you may see something you'd like to read. Oh, and I love to chat so don't be shy and please leave a comment or two I'd love to get to know all of you!
Wishing you a beautiful day!!
Much love,
Lysa xx
URL to my eBook:
Links to a couple of Posts
http://welcometomycircus.com/2014/03/i-never-thought-i-would-be-able-to-forgive/
http://welcometomycircus.com/2014/03/my-grandmas-kitchen/
Social Media URL's:
Facebook
https://www.facebook.com/LysasCircus
Twitter
https://twitter.com/ContessaLysa
Google +
https://plus.google.com/u/0/+LysaRizzo
Instagram
https://instagram.com/welcome2mycircus/
LinkedIn
www.linkedin.com/in/lysawilds
Bloglovin'
http://www.bloglovin.com/blogs/welcome-to-my-circus-13323105
StumbleUpon
http://www.stumbleupon.com/stumbler/LysaWilds
Tumblr URL:
itswelcometomycircus.tumblr.com
Please pop over and say hi to Lysa and don't forget all the fab linkers below. I hope you all have a wonderful weekend xx
Go Over and share your Klout Profiles with #SoFoLo HERE.
Link Your PoCoLo Posts here: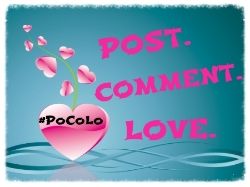 <div align="center"><a href="https://www.vevivos.com/post-comment-love" title="Post Comment Love"><img src=" http://i1322.photobucket.com/albums/u568/ToriWel/4e4a1bf6-07cb-494b-b06e-f959b1fe1311_zps654d027a.jpg" alt="Post Comment Love" style="border:none;" /></a></div>
Copyright protected by Digiprove © 2015-2016 Victoria Welton