Hello everyone and welcome to this week's Post Comment Love. I hope you have all had a great week. Not long now and half term will be upon us.
Yesterday I had a rather painful trip to the dentist but I am really looking forward to the weekend as we are off to a friend's wedding. Ross was asked to do the reading so together we wrote a poem and you will find it on yesterday's Prose for Thought. Bear with me on the commenting, it may be a little later this week but I will be there!
I have also written a number of other posts this week including some cleaning tips from Bissell, details of our wine and chocolate review from Waitrose, a flourless chocolate cake recipe plus I am giving away 4 tickets and two goody bags to the WWE Live Tour in Cardiff.
In case you weren't aware, I have decided to change things slightly in the way I do Social Follow Love. It is now going to run the first and third week of the month. For the first two weeks it is for you to link any of your social media accounts. For the second two, it will be for giving out some Klout to other linkers. So, if you would like to be klouted any time over the next two weeks then please nip over and link up. If you do link, then, over the course of the two weeks, I shall all of your Klout profiles on our Facebook group. Also, don't forget our #SoFoLo community on Google + and our #PoCoLo Facebook group where you can go and post your PoCoLo post for some more shares as well as any of your social media accounts of yours that need more followers.
If you are a regular here then it would be great if you spread the #PoCoLo word. However, if you are new here then welcome! Post Comment Love is all about sharing posts which you have written this week which just haven't got the attention they deserve and, with them all in one place, we can help each other share the comment love. This is one of the easiest links EVER. You don't have a 'special theme' to have to write about, the post can be personal, sponsored, a photo, a review, a competition, your own linky, something you've linked to a linky….WHATEVER you like – it's one you've already written this week! If you want some publicity and attention, then you are in the right place!
Please make sure you go across and comment on at least two other linkers posts. Linkys work if everyone supports each other, then, spread the #PoCoLo about this link up on Twitter. The post you link up has to have been written in the last week. The link will go up every Friday at 6.30am and close on Sunday evening at 8pm. I will make sure I retweet anyone and also try my best to tweet out the posts with the PoCoLo badge being displayed on either the post or the sidebar.
I have a list for the Newbie Showcase running into April 2016. If you would like to be featured then please email me at vickywelton@hotmail.com so I can put you on the rota. Remember, your blog needs to be under a year old to feature from the time of sending your email to me.
This week I would like to say a big #PoCoLo hello to the lovely Joanna from Mumbalance. I am ashamed to say that I don't read her blog enough but I will be rectifying that one!
Let's start at the beginning. My name is Joanna. I have started a blog – Mum in Search of Balance – as a creative outlet and to create an online freelance writer's CV. Very quickly I've realised that I love blogging and that I don't have to write for others, when I can be my own editor. Enter idea of becoming a professional blogger.

To help develop my blogging career I have recently relaunched my blog, as mumbalance – green family blog, to give it a stronger focus. And it has instantly brought more interest from brands and increased my traffic in general. Hurrah!

I've decided to give my blog a green edge, because this is the topic I think about a lot in daily life and all my posts are filtered through a green lens. It took me a year of blogging to realise that!

We are not militant eco-warriors, just a down to earth family trying to keep our planet in decent shape for our children and generations to come. We believe that by making small changes in our lives – and encouraging others to do so – we can make a difference. Our philosophy is simple:

we do our best to be green (but don't always succeed)

we spend a lot of time with our son exploring nature (if he loves and values it he will want to protect it as an adult)

we choose natural and healthy options in all aspects of our life

we travel slowly to experience the culture and nature of places we visit, which helps our son to be tolerant and develop thinking outside-of-the-box skills
I can't always buy local/organic/sustainable produce, but I always try to make the best and most informed choice. I like to research options – with green light firmly on – and I share the results on my blog, to save others the hassle. I like to read informative posts online, so this is also what I write.

If you feel the same do visit my blog (Link please) or get in touch via social media:
Twitter: @mumbalance (https://twitter.com/mumbalance)

Facebook: MumBalance (https://www.facebook.com/MumBalance-287910768075448/)

Instagram: mumbalance (https://instagram.com/mumbalance/)

Pinterest: mumbalance (https://www.pinterest.com/MumBalance/)
In blogging I have found a friendly and likeminded community and I love to add to that circle.

Here's a few of my favourite posts:
Why you should stop cleaning your home
What is slow travel?
The power of small people
5 Steps to declutter your life the green way
What if I don't buy presents?
Please pop over and say hi to Joanna and don't forget all the fab linkers below. I hope you all have a wonderful weekend xx
Go Over and share your Klout Profiles with #SoFoLo HERE.
Link Your PoCoLo Posts here: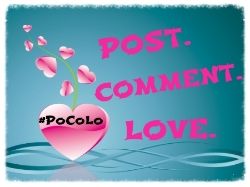 <div align="center"><a href="https://www.vevivos.com/post-comment-love" title="Post Comment Love"><img src=" http://i1322.photobucket.com/albums/u568/ToriWel/4e4a1bf6-07cb-494b-b06e-f959b1fe1311_zps654d027a.jpg" alt="Post Comment Love" style="border:none;" /></a></div>
Copyright protected by Digiprove © 2015 Victoria Welton