Welcome to this week's Prose for Thought. Thank you so much to everyone who linked up for National Poetry Day last week – there were so many beautiful pieces of writing.
This month's BritMums Poetry and Prose round-up has been put together by Maddy and you can pop over and read some of last months favourites.
This week I have gone off the usual path with my prompts and shared the wedding reading that Ross and I wrote together and that Ross will be reading at the wedding ceremony for our friends this Saturday. I now have the prompts 'imagination', 'organisation' and 'memories' to catch up on. Feel free – but not obliged – to join in.
I am really looking forward to reading everyone's posts.
So, if you have written a piece of original poetry, prose or fiction and would like to share it, then please link up below. I will try my utmost to read every single linker and share on Twitter, Google + or Facebook (please say in the comments if you have a preference). I would also love it if you share and use the #Prose4T hashtag. Please also use my badge below if you are linking up – it helps to publicise the linky to others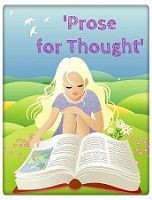 <div align="center"><a href="https://www.vevivos.com/prose-for-thought" title="Prose for Thought"><img src=" http://i1322.photobucket.com/albums/u568/ToriWel/Proseimagesmall_zps637beb08.jpg " alt="Prose for Thought" style="border:none;" /></a></div>
Copyright protected by Digiprove © 2015 Victoria Welton