Welcome to this week's Prose for Thought and a National Poetry Day special! I am pleased to say that this week I have written my 40th poem written so far this year – and I shall be sharing each and every one of them over on Twitter today.
For lots more poetry today, pop over to the National Poetry Day website and visit The Guardian newspaper website where people are reading their poems on camera (including me hopefully!).
This week I have written up two of my photography and poetry prompts – 'sweet' and 'after'. Both very different! I now have the prompts 'imagination' and 'organisation' to catch up on. Feel free – but not obliged – to join in.
I am really looking forward to reading everyone's posts.
So, if you have written a piece of original poetry, prose or fiction and would like to share it, then please link up below. I will try my utmost to read every single linker and share on Twitter, Google + or Facebook (please say in the comments if you have a preference). I would also love it if you share and use the #Prose4T hashtag. Please also use my badge below if you are linking up – it helps to publicise the linky to others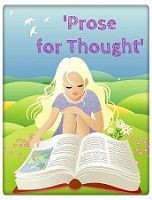 <div align="center"><a href="https://www.vevivos.com/prose-for-thought" title="Prose for Thought"><img src=" http://i1322.photobucket.com/albums/u568/ToriWel/Proseimagesmall_zps637beb08.jpg " alt="Prose for Thought" style="border:none;" /></a></div>
Copyright protected by Digiprove © 2015 Victoria Welton