This week's photography and poetry prompt is the word 'open' and I knew exactly what I wanted to write about.
Firstly the image is a panoramic one of Soar Mill Cove – definitely the great wide open.
This week's prose is not an easy subject but I think that tackling difficult things is part of what us bloggers do best.
This Saturday marks the second anniversary of our first miscarriage. Last year, up until the 3rd of October, I felt like I was on a downward spiral but the first anniversary saw me buy a special orchid – that now sits on my windowsill and blooms beautifully – and helped me to pick myself back up again and shake off the awful feeling of down.
I would like to say that this is not a sad post. Just one of a memory and I really don't want people to think I am upset. It just marks another milestone in my life.
I wanted to mark that milestone this year by sharing 'Open Prose to an Angel'. I was so pleased with the video format last week that I once again set it to some of my photos. This week's photos are all ones of nature that I have taken over the past year.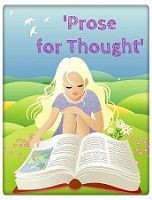 Copyright protected by Digiprove © 2015 Victoria Welton