Welcome once again to Post Comment Love. Can you actually believe that this is the last Friday of September?! The clocks will be changing before we know it.
Everyone has been a bit under the weather in this house this week, especially poor Grace – that is a sure sign of this time of the year I guess. But, whilst I say that, we have all had a lovely week for one reason or another.
Mine lovely reason has been the fabulous BlogCamp trip to River Cottage this week. Being only half an hour up the road, it was probably one of the closest events I have been to. I had a wonderful time and I have linked up this post below together with my post about my 3 blogging goals for this coming year. I have also shared my latest poem 'Small' and a great new giveaway to win a £150 Smyths Toys voucher.
This week's #SoFoLo is a little bit different. I had the idea after I made my YouTube trailer earlier this week. It is for you to share any YouTube videos that you would like views, likes, comments or shares on. To link up your video, simply pop over to the SoFoLo post to find out more. Also, don't forget our #SoFoLo community on Google + and our #PoCoLo Facebook group where you can go and post your PoCoLo post for some more shares as well as any of your social media accounts of yours that need more followers.
If you are a regular here then it would be great if you spread the #PoCoLo word. However, if you are new here then welcome! Post Comment Love is all about sharing posts which you have written this week which just haven't got the attention they deserve and, with them all in one place, we can help each other share the comment love. This is one of the easiest links EVER. You don't have a 'special theme' to have to write about, the post can be personal, sponsored, a photo, a review, a competition, your own linky, something you've linked to a linky….WHATEVER you like – it's one you've already written this week! If you want some publicity and attention, then you are in the right place!
Please make sure you go across and comment on at least two other linkers posts. Linkys work if everyone supports each other, then, spread the #PoCoLo about this link up on Twitter. The post you link up has to have been written in the last week. The link will go up every Friday at 6.30am and close on Sunday evening at 8pm. I will make sure I retweet anyone and also try my best to tweet out the posts with the PoCoLo badge being displayed on either the post or the sidebar.
I have a list for the Newbie Showcase running into April 2016. If you would like to be featured then please email me at vickywelton@hotmail.com so I can put you on the rota. Remember, your blog needs to be under a year old to feature from the time of sending your email to me. I am pleased to say that I am now up to date with all my requests!
This week there is no newbie showcase I'm afraid – the person originally on the rota no longer has a blog. So, what I am doing instead is sharing all the posts from last week's link up that received 3 comments or less. I would really appreciate it if you could visit and comment on at least one of them – just to help them out a bit.
The Single Swan – A Taste of my Own Medicine
A Sunny Island – Firsts
Mummy Fever – In Search of a Decent Internet Connection
Done Gallivanting – Getting the Most Out of Your Day at Blair Drummond Safari Park
Touchline Dad and Mother in the Middle – Bold Fearful Boy
Accidental Blogger – Mercury Retrograde
Wave to Mummy – Using self-storage to help house move
Storysnug – Learning with Mix It Up
I am sure that they would appreciate your visit.
The newbie showcase will return next week. In the meantime, I hope you all have a wonderful weekend xx
Go Over and share your YouTube Videos with #SoFoLo HERE.
Link Your PoCoLo Posts here: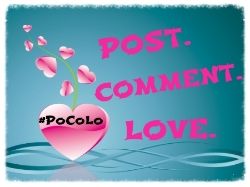 <div align="center"><a href="https://www.vevivos.com/post-comment-love" title="Post Comment Love"><img src=" http://i1322.photobucket.com/albums/u568/ToriWel/4e4a1bf6-07cb-494b-b06e-f959b1fe1311_zps654d027a.jpg" alt="Post Comment Love" style="border:none;" /></a></div>
Copyright protected by Digiprove © 2015-2017 Victoria Welton