For my photography and poetry prompt this week, I doing things a bit different around here.
If you read my post yesterday about my 3 goals for the coming year, I said that I wanted to make more use of my YouTube channel and I am putting that into practice, starting with my poetry.
First, the image is one of my favourites of Grace. She was 3 at the time and this photo was taken as we walked into the church at my brother's wedding. You wouldn't have known it to look at her, but she had just gotten over an awful case of chicken pox.
This week, I am reading my poem 'Small' set to a montage of photographs of Grace aged 3 and under. I really think it helps people hear the tone of the poem better and makes such a difference! I would love to know what you think.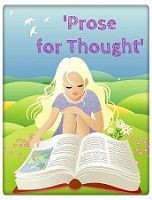 Copyright protected by Digiprove © 2015 Victoria Welton