Welcome to this week's Post Comment Love. Firstly, I need to say thank you to everyone who has visited my blog over the past 3 years. Yep, 3 years ago on 15th September is when I wrote my first ever blog post. It has not only given me somewhere to put my poetry and creativity but it has opened lots of doors for me and, for that, I am truly thankful. I shall be sharing a special post on 15th September, looking back at the last 3 years and some of my favourite moments.
It has been busy in the W household as we have started to find our stride with the new school year. Grace is really enjoying being in the 'top year' at school and her lovely side is shining through once again as she has volunteered to care for some of the special needs children in the younger classes during her lunch breaks. Ross and I also have lots of things in the pipeline that are taking up our time – in a good way. Plus, we all start karate this evening! Then, on Sunday, I am going on a Brownie adventure day to some woods in Taunton. I am expecting to get very muddy!
This week I have shared posts about Osteoporosis prevention, 3 ways to look good naturally, the benefits of chillis and hot sauces and a great giveaway to win some toys from Warner Brothers. My poem is in this week's link.
This week's #SoFoLo is for your Pinterest accounts. Simply pop over to the SoFoLo post to find out more. Also, don't forget our #SoFoLo community on Google + and our #PoCoLo Facebook group where you can go and post your PoCoLo post for some more shares as well as any of your social media accounts of yours that need more followers.
If you are a regular here then it would be great if you spread the #PoCoLo word. However, if you are new here then welcome! Post Comment Love is all about sharing posts which you have written this week which just haven't got the attention they deserve and, with them all in one place, we can help each other share the comment love. This is one of the easiest links EVER. You don't have a 'special theme' to have to write about, the post can be personal, sponsored, a photo, a review, a competition, your own linky, something you've linked to a linky….WHATEVER you like – it's one you've already written this week! If you want some publicity and attention, then you are in the right place!
Please make sure you go across and comment on at least two other linkers posts. Linkys work if everyone supports each other, then, spread the #PoCoLo about this link up on Twitter. The post you link up has to have been written in the last week. The link will go up every Friday at 6.30am and close on Sunday evening at 8pm. I will make sure I retweet anyone and also try my best to tweet out the posts with the PoCoLo badge being displayed on either the post or the sidebar.
I have a list for the Newbie Showcase running into March 2016. If you would like to be featured then please email me at vickywelton@hotmail.com so I can put you on the rota. Remember, your blog needs to be under a year old to feature from the time of sending your email to me.If you have emailed me and not heard from me by then, please do send me another message or tweet me! Apologies to those who I owe an email to!
This week's newbie showcase is someone who I am very familiar with here on PoCoLo. I am full of admiration for how she copes as a mum. Please say hello to Louise from Little Hearts Big Love.
I'm Louise, mummy to two beautiful little girls – Jessica, who has just turned four, and Sophie, who is nearly two. Jessica was born with a complex congenital heart defect called hypoplastic left heart syndrome, which basically means that she has half a working heart. Her first heart surgery took place when she was still in the womb, at 28 weeks gestation and her most recent was at 7 months old. She is due to have another surgery in the future and it is likely that this will take place in the next year. Given that we were told that Jessica was unlikely to be suitable for surgery and would almost certainly not survive during my pregnancy, the fact that she is still here and doing so well at four years old is nothing short of a miracle. Sophie, thankfully, is heart-healthy and is just a little bundle of joy.
Whilst I have been charting Jessica's journey on her own blog (http://jessica-thejourney.blogspot.co.uk) since she was first diagnosed, I wanted a space of my own to reflect on the challenges that come with life as a heart family and started my own blog, which became Little Hearts, Big Love, back in April 2014. My blog has since evolved to become more of a general parenting blog, although raising awareness of congenital heart defects and sharing our story to help other heart families is still a big part of it. I run a monthly linky, called Heart to Heart (http://littleheartsbiglove.co.uk/linky-blog-love/heart-heart/), for heart families to share their posts and also run a weekly linky, From the Mouths of Babes (http://littleheartsbiglove.co.uk/linky-blog-love/mouths-babes/), all about sharing the things that children say.
You can read more about our heart journey through the following posts:
Jessica's handmade heart (http://littleheartsbiglove.co.uk/2014/09/29/jessicas-handmade-heart/) – more about Jessica's heart defect and the surgeries she has had.
In pursuit of a miracle (http://littleheartsbiglove.co.uk/2014/06/26/in-pursuit-of-a-miracle/) – the story of Jessica's in-utero surgery
What it means to be a heart parent (http://littleheartsbiglove.co.uk/2015/07/14/what-it-means-to-be-a-heart-parent/) – an overview of what life is like as a heart parent
You can also find me on social media on the following platforms:
Twitter: https://twitter.com/liquoriceuk
Facebook: https://www.facebook.com/liquoriceuk
Instagram: http://instagram.com/littleheartsbiglove/
Pinterest: https://www.pinterest.com/liquoriceuk/
Google+: https://plus.google.com/+LouiseGeorge/posts
Thank you Victoria for featuring me on the Newbie Showcase this week.
So please go and support Julia and all the lovely bloggers who have linked up below. Have a great weekend everyone xx
Go Over and share your Pinterest account with #SoFoLo HERE.
Link Your PoCoLo Posts here: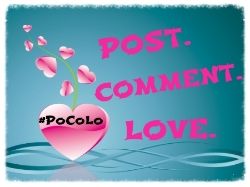 <div align="center"><a href="https://www.vevivos.com/post-comment-love" title="Post Comment Love"><img src=" http://i1322.photobucket.com/albums/u568/ToriWel/4e4a1bf6-07cb-494b-b06e-f959b1fe1311_zps654d027a.jpg" alt="Post Comment Love" style="border:none;" /></a></div>
Copyright protected by Digiprove © 2015 Victoria Welton