Welcome to this week's Prose for Thought. So, how has the first week back to a resemblance of normality been for you? I have to admit to enjoying being back in a routine – although I do miss Grace.
I am pleased to say that I am keeping up with my linkers – although I have been slack on the Britmums Round-up so that is work in process as you read! Watch this space!!
This week's prompt sees me continuing to catch up on the list, and this week's word is 'personality'. Still to come are 'hide and seek' 'small and 'open' to catch up on. Feel free – but not obliged – to join in.
So, if you have written a piece of original poetry, prose or fiction and would like to share it, then please link up below. I will try my utmost to read every single linker and share on Twitter, Google + or Facebook (please say in the comments if you have a preference). I would also love it if you share and use the #Prose4T hashtag. Please also use my badge below if you are linking up – it helps to publicise the linky to others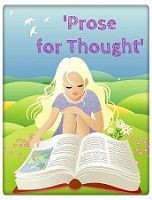 <div align="center"><a href="https://www.vevivos.com/prose-for-thought" title="Prose for Thought"><img src=" http://i1322.photobucket.com/albums/u568/ToriWel/Proseimagesmall_zps637beb08.jpg " alt="Prose for Thought" style="border:none;" /></a></div>
Copyright protected by Digiprove © 2015 Victoria Welton